When was the last time you listed a FSBO? It's no secret FSBOs can make great leads for agents, but you have to establish a strategy to work with them and convert them on a regular basis so it grows your business.
Introduction



How are you building up your roster of leads as a real estate agent? For Sale by Owners, also known as FSBOs, are some of the best leads out there for agents, but you still have to know how to scout them and convert them into listings. After all, sellers who plan to sell their homes independently have likely dug their heels into the ground about working with an agent. They've decided they can do it all themselves — it's up to you, the smart agent, to convince them otherwise.
With a combination of engaging communication that isn't too aggressive, marketing tactics that show your strengths, and statistics to convince the seller they'll make more money with you than without you, converting a tough FSBO lead is a completely doable endeavor.
Keep reading to learn how and why agents should turn FSBOs into lucrative listings.
Table of Contents



Chapter 1: Why should You Pursue FSBOs as Listings
Chapter 2: Where to Find FSBO Leads
Chapter 3: How to Qualify Your Leads
Chapter 4: An Overview of the Marketing Campaign
Chapter 5: Methods of Communication with Leads
Chapter 6: Sales Appointments
Chapter 7: Handling Objections
Chapter 1: Why Should You Pursue FSBOs As Listings?



Perhaps you're apprehensive about listing FSBO sellers because you suspect you won't be able to convince them that working with you is a better choice than attempting to sell alone. But with a few enticing tools and statistics in your arsenal, you can convince FSBOs that they need you as much as you need them.
First, though, let's talk about whether you really need them. Aren't FSBOs just a hassle after all? Or at least that's what you've always experienced or been told. Aren't you better off going after the surefire leads from your brokerage instead of scouting FSBOs on Zillow or around the neighborhood?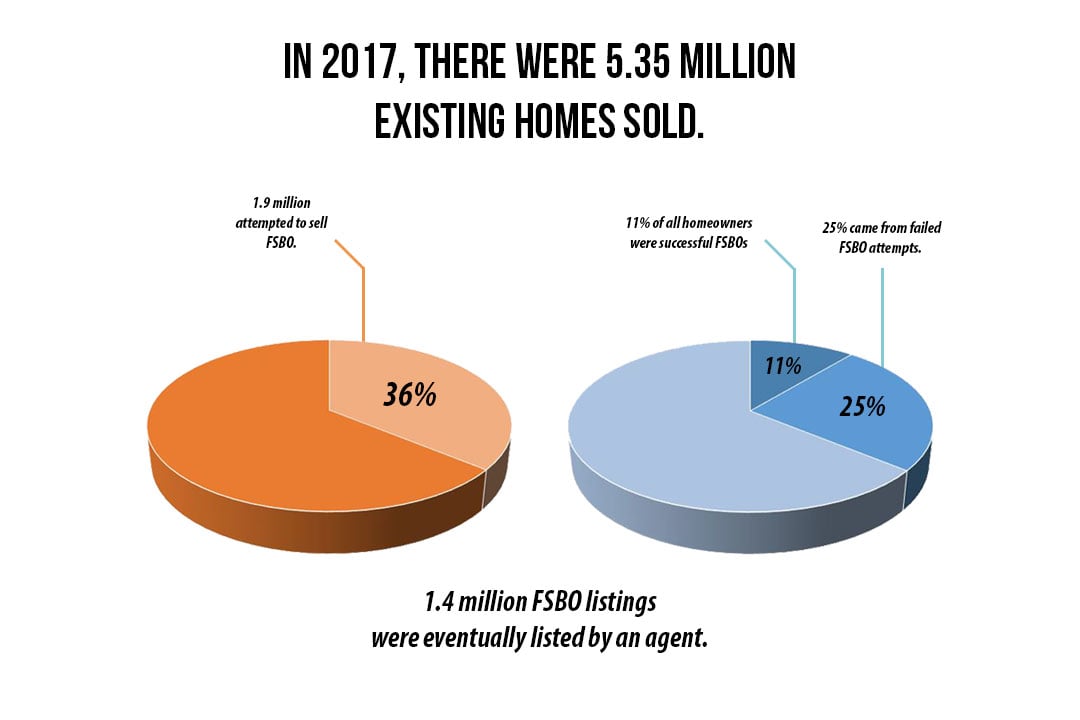 The truth is, FSBOs are a wealth of leads you cannot afford to miss. In fact, according to the 2017 Consumer Housing Trends Report conducted by Zillow, only 11 percent of all sellers ever manage to sell their homes without the help of an agent. A whopping 89 percent of sellers sell with a real estate agent's assistance, despite 36 percent who attempt to sell independently at first.
Breaking down the numbers, this means 1.4 million sellers fail to sell FSBO and hire a real estate agent. That's equal to 25 percent of all sellers!
Rick Culp in Denver, Colorado, shared his opinion on why agents should pursue FSBOs:
"I find that For-Sale-By-Owners are what increases my listing inventory. And a FSBO seller can also be a buyer. With so many of these people who want to list their home, guess what? They also need to buy. If you do a good job for them, you can get referrals. You're learning to build relationships that other agents avoid. You can sharpen your skills."
Let's break down a few of these reasons for working with FSBO sellers and talk about them.
You increase your listing inventory with FSBO sellers.
A successful real estate agent always has an active and growing listing inventory. If someone looks you up on the internet and you have next to no active listings, chances are good they will pass you by for a different agent.
Thus, any active listings are good news for an agent, including FSBO listings. A smart agent keeps many irons in the fire, so to speak.
FSBO Sellers can transform into buyers. FSBO sellers who also need to seek out their next dream house will likely want to work with you again if you did a great job in the selling process for them. Most people want to keep working with someone they've grown to know and trust.
FSBO Sellers can refer you to their family and friends.FSBO sellers might also have friends and family who will hear of your services. Word of mouth continues to be the best advertising out there, and one happy client will lead to more.
Working with FSBO sellers means sharpening your skills. Many agents shy away from working with FSBO sellers because they think the obstacle of turning a stubborn FSBO into a listing is not worth the time or beyond their skill set.
By mastering a strategy that works for you and turning FSBOs into lucrative listings, you will be ahead of many agents who are in competition with you, and you will be enriching your own skills for the future so you can be a better agent.
In addition to these excellent reasons that you need FSBO leads, don't forget that FSBOs actually need you, too — they just have not quite realized it yet.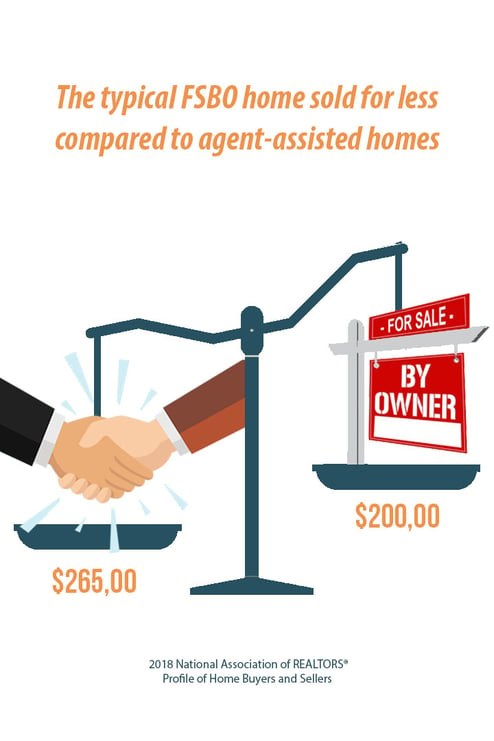 The typical FSBO home sold for $200,000 compared to $265,500 for agent-assisted home sales, according to the 2018 National Association of REALTORS® Profile of Home Buyers and Sellers.
That means, if you can convince a FSBO that they'll make so much money working with you that your commission will just be a drop in the bucket, they'll be putty in your hands!
Chapter 2: Where to Find FSBO Leads

Now that you're convinced that the opportunity with FSBO leads is one you can't miss, how can you find them? Where are FSBO leads?
Here are a few tips for scouting FSBO leads.
Decide on your "A" area and your "B" area.
Your "A" area should be fewer than 30 minutes from your office and easy to access. Your "B" area can be a little farther away and thus a little bit more work. When it comes to your "B" area, you might want to set certain stipulations (such as price) to determine if leads are worth it.
Get to know everything about the areas.
Once you've figured out your "A" area, make it a priority to know everything about that area, from market stats to lifestyle to the kind of buyer it attracts. Do the same with the "B" area. You want to be an expert in these areas, the smart agent that sellers and buyers can approach with questions. And stubborn FSBOs will respect you that much more if you know their area backwards and forwards.
Set a notification on real estate sites, such as Zillow and Realtor.com, to alert you when a new FSBO listing is posted.
Yes, there are also "premier agent" accounts, but you can schedule regular alerts just as someone searching for a new home would. Simply schedule them for the area you are targeting: your "A" and your "B."
Check other websites, too.
Don't forget about Craigslist, ForSaleByOwner.com FSBOs.com, HomesbyOwner.com and any other site you can find.
You can choose to hire a service - but don't skip the next section.
There are services you can pay for that will scout FSBO leads for you, but keep in mind you will still need to do the necessary legwork we discuss in the next section. For one thing, these services do not always check potential leads against the MLS or even check every possible site. Essentially, we suggest taking the "if you want something done, do it yourself" approach on this.
Chapter 3: How to Qualify Your Leads
Good job; you found some leads! But make sure all your homework is done BEFORE contacting any potential leads. We can't stress this enough.
First and foremost, check the lead against the MLS.
Don't forget to make sure any FSBO leads you discover are actually still up for grabs and not listed by another agent.
Other things to research before you approach a FSBO lead:
Are they pricing the home to sell?
The price of the home compared to other similar homes in the area and the health of the market should tell you whether the FSBO seller is eager for the sale or happy to sit pretty and wait for an outlandish offer.
How motivated do they seem?
You might be able to find this out before you ever contact the seller with some crafty research. Check social media and the full listing to see if urgency language is there, such as "Must Sell Right Away!"
Make sure they aren't an agent. Read the listing carefully to ensure that the seller isn't a broker or agent.
The Phases of FSBO: Learn Them!
Before you approach FSBOs, it's also important to educate yourself a little more on the nature of these sellers. First of all, understand that the typical FSBO seller goes through three different phases during the process.
These phases are:
Phase #1 We're not dealing with real estate agents whatsoever!
Phase #2: We will listen to you. We will likely pay for a buyer.
Phase #3: We're ready to list.


These three phases are essential to knowing how you should engage with the FSBO seller. If, for example, a seller is only in phase one, it's best NOT to be overly aggressive in your approach.
Here are a few more tips for each phase.
Phase #1 We're not dealing with agents!
What you should do:
Follow up with valuable information.
Respect their stance and avoid aggressiveness.
Objective: At this earliest phase, be the agent who stays in contact with the seller, helps out when needed and stays informed of the situation. FSBO sellers at this phase are not willing to work with agents.
Phase #2: We will listen to you. We will likely pay for a buyer.
What you should do:
Use a consultative process.
Preview the home.
Compliment the home.
Point out benefits that would help the home sell.
Build rapport and take notes.
Get permission to follow up and give a reason.
Always offer value and leverage reciprocity.
Objective: At this phase, FSBO sellers still don't want a listing agent; they just want to sell the home. They are likely willing to pay for a buyer's agent. If you've played your cards the right way and built a relationship, they are more willing to consider your advice.
Phase #3: We're ready to list.
What you should do:
Ask the sellers whether they are enjoying the process. Ask if they have had any offers or viewings.
Recap what you want to go over with them at a listing appointment.
Objective: Ideally, you want to schedule the listing appointment at this phase. If the sellers are visibly frustrated with the process and have not yet sold -- and they trust and have a rapport with you -- it's time to get the listing.

Chapter 4: An Overview of the Marketing Campaign
What is the most important part of any campaign for converting a FSBO? Following up. If you don't do it, you will not get their business. And if you DO follow up, there's an excellent chance that other agents haven't taken the time and effort to do the same. Here are some stats to show you what we mean: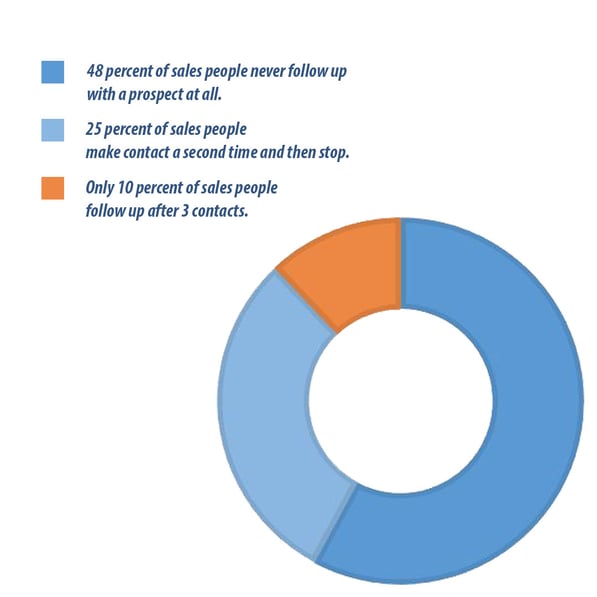 In other words, if you follow up a fourth time, you will be doing better than 90 percent of real estate agents -- and you will make an impression on the seller as long as you are helpful, sincere and knowledgeable.
Create a campaign that converts
With over a million agents in the industry, standing out and getting FSBOs to list with you is a huge job. There are a lot of agents pursuing them to get them to list. In other words, the campaign that you use makes a huge difference to your success.
#1 Stand out with your marketing materials
The first thing to remember is to stand out. Don't blend in. If everyone else does one thing, do the opposite. For example, if everyone mails letters, mail them a book. If everyone is cold-calling them, knock on the door or mail them letters. Whatever they're doing, do something different.
#2 Stand out with your approach
If everyone's going after FSBOs with pushy sales messages and scripts, opt for a helpful approach. Help them along the way, see where they're stuck, offer some input and build trust and rapport so it's easy to get the listing when they give up and decide to list with an agent.
#3 Use multiple steps
When you lay out your campaign, make sure you use multiple steps and change them up. A combination of mailing marketing materials, visiting in person and using the phone to call or text typically yields results.
#4 Keep in mind less is more
It's better to to solicit fewer leads and have quite a quality campaign than to just to send a bunch of sporadic mail without a plan. So narrow it down, and do a good job on a multi-step campaign that uses different steps and different methods.
#5 Be in-person whenever you can.
Open houses on the weekend are really good way to meet FSBOs, and that way, you know they're at home. They're already expecting people to walk in the front door.
For the FSBO at Phase 1 - Information Only
FSBOs at the earliest stage who are still thinking they can do everything themselves should get acquainted with you through pertinent information about selling a home that you send their way. These packages should not be sales pitches. You will need to prove your value before you try to sell yourself.
Things that FSBOs at Phase 1 will appreciate include:
Comparisons between their home price and other similar homes in their area, with context about whether they've priced the home correctly.
Information about the area that they might want to share with interested buyers.
A book or other referential material that will guide them in the process. For your own book, visit Authorify.com.
For the FSBO at Phase 2 - Helpful Tips for Marketing The Home and Enhancing the Process
While the Phase 1 FSBO is still stubborn about the value of real estate agents, the Phase 2 FSBO has warmed up to the idea, at least in theory. FSBOs in Phase 2 are getting antsy to sell the home, and the have likely conceded that they'll pay for a buyer, even if they haven't yet decided to list.
The Phase 2 FSBO is perfect for "enhancing the listing" input, such as better ways to stage the home, create curb appeal and entice buyers. You can gently point out that you have the skills and resources to do this for them, but also recognize they might take your advice and do it themselves.
Things FSBOs at Phase 2 will appreciate include:
Photo examples of what professional listing photos could like (your own examples).
Tips for staging, creating curb appeal and hosting showings (often in person at a preview appointment).
Examples of other listings in their area to question whether their own listing is up to snuff.
For the FSBO at Phase 3 - the Sales Pitch
Once the FSBO is ready to list, you can finally provide them with a full sales pitch of why hiring you is the best strategy for getting their home sold at top dollar.
Things FSBOs at Phase 3 will appreciate include:
Proof of your own experiences selling homes for more money (BONUS if they started as FSBO listings!).
Your background and credentials for marketing the home and shepherding the transaction.
Proof that your expertise will make their home-selling goals easier, faster and more lucrative then they thought possible - and how your commission won't necessarily put a dent in their profits.
Guess what? We have a campaign that follows all the phases as they naturally occur and makes staying at the forefront of a FSBO's mind a piece of cake. It's called the Done For You Direct Mail Campaign and it's offered through Authorify.
Visit Authorify.com/FSBO for more information about the campaign.
The importance of having a marketing process
We understand how real estate agents often do things (Hello - we're agents ourselves). We know salespeople love to "fly by the seat of their pants" instead of establishing a firm process.
But hear us out -- a process will help you convert more leads. You need a process for following up with the FSBO so your tactics are spaced out.
Let's say you intend to call them first, then follow up with a wow package and another phone call. You need to know how long to plan to wait between mailing and calling, and you need helpful notes to propel your strategy.
Chapter 5: Methods of Communication with Leads




The first conversation
Once you've thoroughly researched a FSBO and you're certain they are a worthwhile lead, it's time to make your first point of contact. There are a few different ways you can do this, including mail, phone, email, or face to face.
When you finally have your first dialogue with the FSBO, keep things friendly and conversational (not salesy) and try to find out a few things:
Depending on what you already know about the seller, the following questions might apply: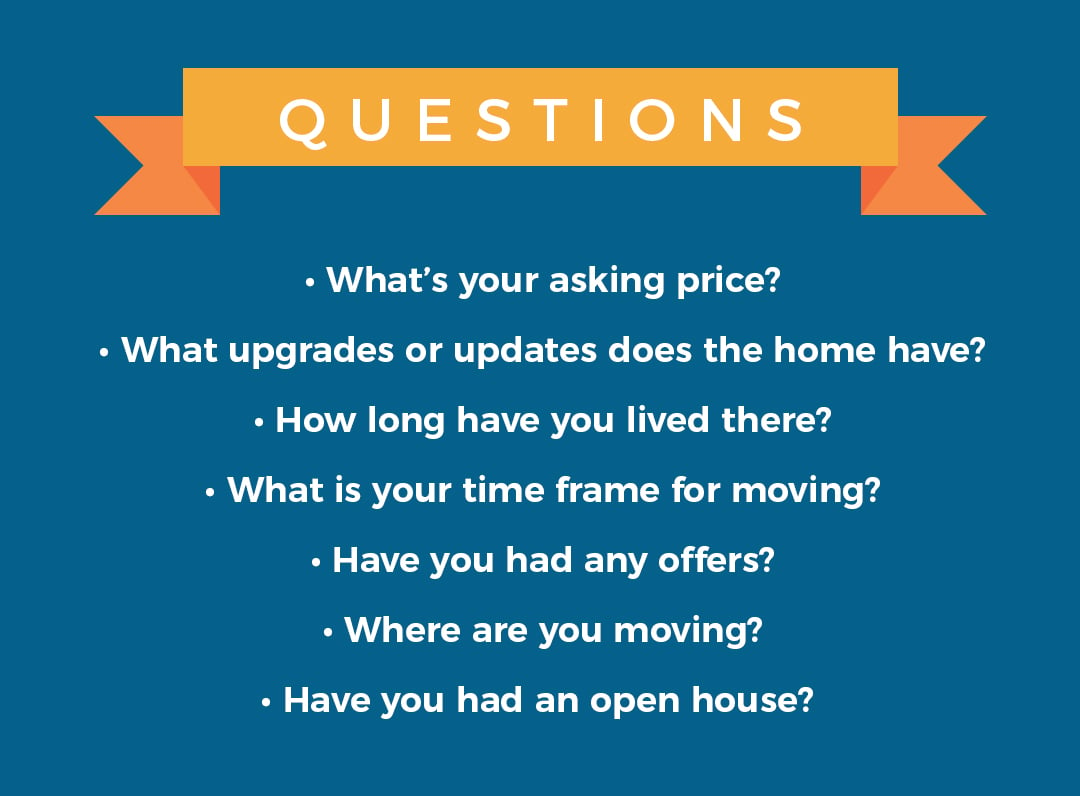 Above all, remember that this first point of contact with a FSBO should be all about them. Keep your sales pitch on the back burner for the time being until they have warmed up to you.
When should you get in touch with a lead?
What is the best time for reaching out to a FSBO lead?
You want to catch them when they're feeling uncertain about their ability to sell the house without an agent. Mondays, according to Rick, are a great time, because they likely tried showing the home over the weekend to no avail.
"...Mondays are a good day to call FSBOs, and why is that? They've just done their open houses over the weekend. They didn't get a contract. They showed it over the weekend, and nobody wrote them an offer. They're sitting around the coffee table Monday morning … saying, we didn't get it sold this weekend. What do we do? That's your best opportunity you have to get them on the phone while they're talking about it. So, I feel like Monday mornings are probably the best time. It's a good day to follow up," he says.
What if you're swamped on Monday? Aim for Wednesday, when you still have half of the week to list the home and get it on the MLS by the weekend.
Texting or emailing
A phone call isn't always the best way to get back in touch with a FSBO. There are a couple of other tactics you can use, including text messages and sending an email. These are both strategies we've heard other agents are using. Remember, though, to thoroughly research any laws surrounding these strategies. In some cases, mass text messages are illegal. Make sure your marketing campaign does not get you into trouble.
Whatever route you choose for getting in touch, the main thing to remember is that you want to set yourself apart from other agents.
For example, if you know other local agents are saying things like, "Hey, agents sell homes for more money, so why are you selling FSBO instead of listing with us?" then use a different approach.
Say to the FSBO seller, "I congratulate you on your desire to sell your home by yourself. Maybe I can give you some helpful advice and some information to assist you with it."
Then later, when the seller decide it's more work than they are prepared to do, they'll list the home with you, because you're the agent who was the most helpful and the least aggressive.
Drop-bys and Door Knocking
The time-tested strategy of stopping by someone's house is still an option, even though agents do it a bit less than they used to. One tactic that Rick shared, attending FSBO open houses, sounds like a fun and productive way to spend a Saturday morning.
"The best way obviously to meet a for sale by owner is at their open house," he says. "I've got about a half a dozen scheduled for this weekend sitting on my desk here. They've advertised them on Zillow. They'll advertise the time. I'll put a packet together with some comps, maybe a public records printout and some information about me, and I'll show up at their open house and hopefully get an opportunity to spend a few minutes meeting them, talking to them.
One thing that I would advise you never to do though is if they've got buyers in their open house, you never interrupt that and pitch them. You just shake their hand, leave your information and leave because that's their best opportunity and you do not want to offend somebody."
Chapter 6: Sales Appointments
A sales appointment with a FSBO might happen early or late in the process, depending on the marketing campaign approach you've chosen. The two main types of appointments you might schedule with a FSBO include:
Preview appointments
Listing appointments
What's the difference? A preview appointment is when you do not expect to leave with a listing; you are simply touring the home and learning more about the sellers.
A listing appointment, of course, should end in a signed listing agreement.
What to do during a sales appointment
When you meet the sellers face to face for the first time, it's important to earn their trust and respect. As you go through the introductory process, note all of the following:
Check eye contact, smiling, facial emotion. Are they serious or relaxed?
How is the handshake? Firm or timid?
How is the chemistry between the couple? Are they on equal footing or does one seem to wear the pants?
Are they "house proud" or ready to ditch the place?
Remember FORD - Family, Occupation, Recreation, Dreams
People love to talk about themselves, so let the sellers share their story. The secret formula of FORD - Family, Occupation, Recreation and Dreams - is a good rule of thumb for driving the conversation at a first meeting. And these tidbits you learn about the sellers can help you bond with them and get the listing. According to Rick:
"Everybody likes to talk about their family, what you're doing for a living, what kind of sports and activities they are involved in. So, you're walking around the house, take notes."
Touring the home
A little honey will catch these homeowners, so don't be dry in your request for a tour of the home. Compliment something that you see right as you walk inside, such as the foyer or stairwell, and be genuinely interested in seeing more.
Say something like:
"I love this room; it's so elegant. Why don't you show me your favorite qualities of your home?"
"What a beautiful house! I would love for you to show me around and tell me what you love about living here."
It's important not to gush over the house, but to point out the key features that buyers will like.
As Rick points out:
"...Show reserved enthusiasm. Don't say, 'Oh, I think your house is just so great.' I mean, they'll see through that ...but, show some reserved enthusiasm, and if you see a feature that they would think would be special, compliment them on it."
Questions to ask during the appointment
If you haven't covered all of the below questions at other points of the marketing campaign, take advantage of discussing them face-to-face at a sales appointment.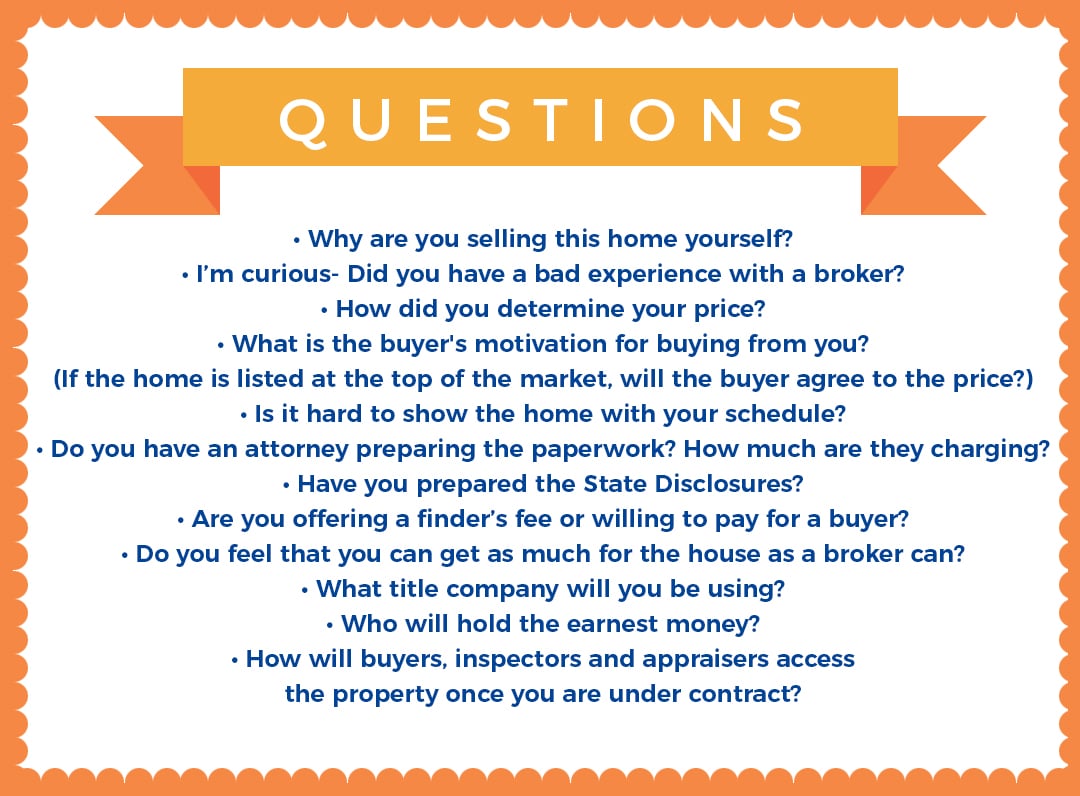 Creating doubt
What does it mean to create doubt? It means to make the FSBO seller realize that the amount of work, time, negotiating, legal "tape" and other factors involved in selling a home is beyond their own expertise. Ideally, your entire campaign has urged them to doubt themselves and build faith in you.
Once you've created doubt in the FSBO seller about their abilities to sell, you can follow up with a few questions that will lead into a listing agreement.
Would you agree that working with a broker is more than likely to get you more money?
Would you agree that my marketing would affect your ability to sell?
Would you agree the timing is right?
For Rusty Johnson, an agent in Columbia, South Carolina, creating doubt effectively has led to a great deal of success with FSBOs:
"I have learned that about it takes a different number of weeks to get that nut to crack, but in that 8 to 10 week time frame is about when they'll say, "You know what, Rusty, you are right. You were right all along. I've got a job; I've got a family. What little personal time I get to squeeze in, I'm trying to sell my house. Why don't you come over here and tell us what you can do to help us."
Likewise, Rick stresses the importance of casually bringing up things they haven't pondered about the process:
"You've just hit them with a bunch of stuff ... and they're like, oh my gosh, we haven't even thought about half of this stuff. ….And you do it in a subtle way that is nonthreatening, not intimidating. It's just a casual, calm conversation. Okay? And so now you've kind of created some doubt and we all know that fear of loss is a prime motivator for people. ...They could miss the market. A broker may actually net … more money. There's legal issues with all this paperwork …. What if [they] have picked out a replacement for the property and we can't close on time trying to sell our home? We got people coming into our house, and opening our house to people we don't even know that are accessing our property. And then Mr Ms Seller, if your time is worth money, you have your own careers. Do you place a value on your time?
Whatever you do, avoid "I have a buyer" schemes.
The all-too-common scheme of tricking sellers in order to get their business and telling them that you already have the perfect buyer who is highly interested in the home is not good practice for any agent with integrity - not to mention it is completely unnecessary when you've ironed out a strategy for converting FSBO leads.
Moreover, the "I have a buyer" trick makes FSBOs think that selling FSBO is easy - and that agents will simply bring them buyers! Watch this video from Kevin Ward for more about this topic.

Chapter 7: Handling Objections
First, the bad news: many FSBO sellers are going to hit you with various objections before agreeing to list with you.
Now the good news: you can handle it, just like any other smart agent.
Let's go through some of the common objections that FSBOs will often bring up before an agreement is signed, and discuss how to respond.
Objection One: Do you even have a buyer?
Sellers often want to know if you have a buyer on the line, so to speak, before they agree to list. This is not a time to be dishonest; simply tell them that you are constantly working with buyers who are looking for homes. Rick Culp suggests the following short reply:
"You know, I don't have a buyer today, but i've been doing this a long time and and I pick up new clients on a regular basis. It sounds like you've got a nice home. We don't have a lot of inventory on the market right now and I'd just like to take a look at your house."
Objection Two: We had a bad experience with another broker/agent.
Many times, FSBO sellers are attempting to sell alone because they had a previous experience that was unpleasant and they are taking it out on you. In these cases, the key is to squelch their fears by pointing out that NOT all agents are the same.
You can offer an exit strategy, like Rick, to make them feel like they have nothing to lose:
"Let me offer you my easy exit listing agreement. If, for any reason, you list with me, and there's anything that you don't like that I'm doing, I'll cancel it with no questions asked. Because, you know what, Mr. and Ms. Seller? I don't think is going to happen. But I am willing to do it to back that up."
Objection Three: We've sold FSBO successfully before.
If a seller insists they can sell FSBO again because they previously pulled it off, it's the right time to dial up the doubt again.
Remind them of changes pertaining to the location, market, economy, buyer base, etcetera
Objection Four: We're working with family/a close friend.
The old "mixing business and pleasure" adage rings truer than ever when it comes to a large transaction like real estate - and you'll want to point this out.
Rick suggests reminding them that choosing a neutral party is often a better bet. You could say:
"Well, that is great if it works out, and I wish you the best. But, if a problem arises throughout the transaction, it can certainly cause a problem in your relationship …. Sometimes it's better to go outside of your circle and just use somebody that's neutral."
Objection Five: We are not in a hurry./We will just wait until next season.
You might run into a dejected seller who insists they'd rather wait until the next "peak" season of real estate (usually spring or fall). However, with your help, there's no need to wait - particularly if they are looking forward to moving.
You can say something like:
"I understand that you'd like to wait a while to sell again on your own. However, if I have a buyer for you tomorrow, wouldn't you still want to make it happen sooner? I know you were looking forward to moving and seeing the family/starting work/getting settled."
Objection Six: Commission
Commission might be the objection that every agent dreads most. But it doesn't have to be! With the right approach, you can gently inform FSBO sellers that they won't lose money by working with you - in fact, they might net more money than they originally anticipated.
Here is what Rusty Johnson has to say about the topic:
"One of the most common objections I get is 'Gosh Rusty, your company charges a 7% commission, that's high isn't it?' I always say, 'What if I show that 7% is actually going to save you money over a 6% commission?' They look at me like I've got two heads. 'What paying more commission is actually cheaper, how is that?' Then I show them mathematically how if it goes a certain amount of days without selling then you're actually going to pay more in payments than that actual amount of extra commission. The commission is only 1% more. On a $250,000 house, what is that, $2,500? Your going to probably end up paying two more payments that equal at least that on a $250,000 house. 'What if it sold 60 days sooner and you didn't make those payment?' 'Wow that's smart, I didn't think about that Rusty. You're right, in the end it probably will be cheaper."
Or take Rick's advice on how to respond to sellers who intend to hire a broker to assist for a flat fee:
"I have spoken with some of them, and they are nice people. However, they are newly licensed, they work on a salary and are inexperienced negotiators So, if your home doesn't sell, it really doesn't cost them anything. If that is who you want to turn your home over to, that is fine and I absolutely wish you the best. But, for a little bit more you can get experience, you can get an experienced negotiator, you're going to talk to me every time you call on the phone, not someone on a team."
Whatever objection you end up facing with a FSBO seller, there are three important points to remember.
Always consider their point of view and make them feel validated.

No seller wants to be told that their reservations are stupid or unfounded. Remember that the first thing out of your mouth when responding to an objection should always be "I can understand your point."
Use evidence as much as you can.

Sellers will be most receptive to you if you can display proof that the formula you're suggesting will work. Whether you back up your claims with statistics, testimonials or marketing displays (better yet, a combination), make sure you aren't just "all talk."
Speak to what motivates them.

If you portray to the FSBO seller that you simply want to make money and pay your bills, they'll see right through it. Instead, support THEIR goals - moving in a timely fashion, getting out of debt, whatever was important enough to prompt selling their home.