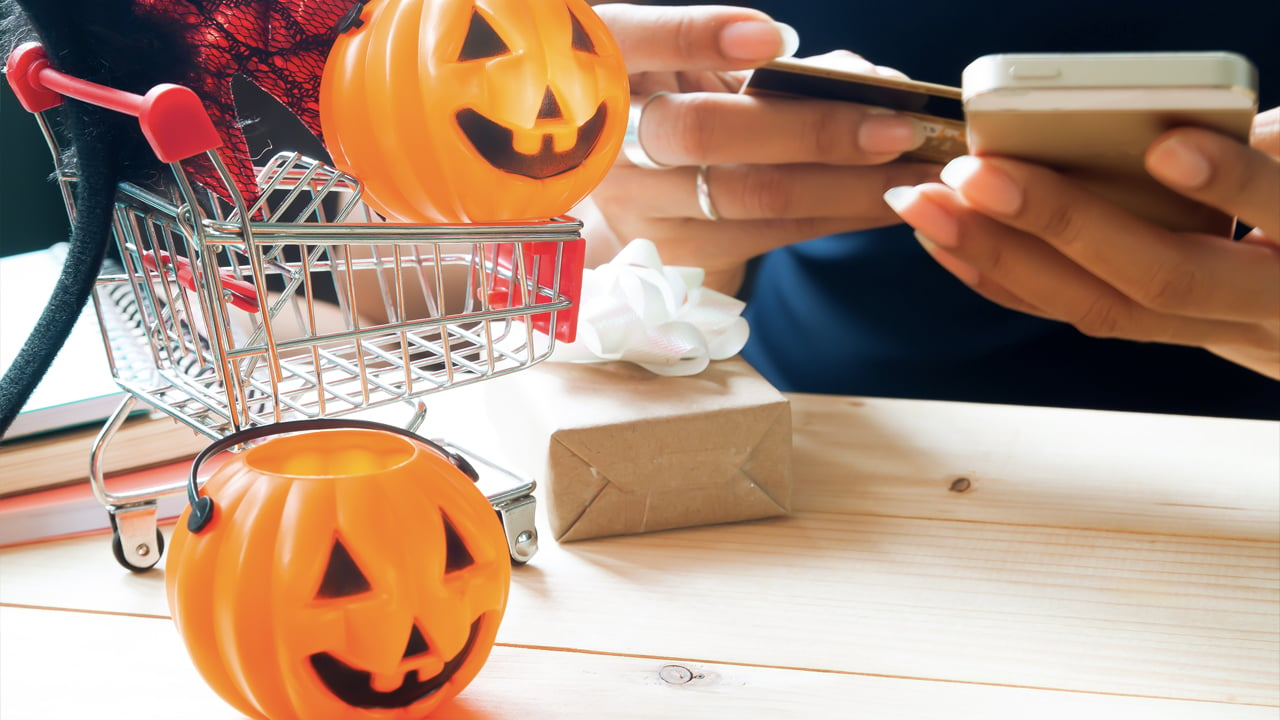 Even if there's still some uncertainty surrounding Halloween and whether or not some of the most popular activities (i.e. trick-or-treating and fall festivals) can take place, that doesn't mean it isn't a great opportunity to market your business.
If you're looking for innovative ways to get in front of new leads, the whole month of October is an excellent opportunity to appeal to sellers. Not only could they be literally walking up to your door, but holiday marketing is a fun, memorable way to promote your real estate business.
Here are a few of our favorite ideas.
Reverse Trick or Treat Your Neighborhood
Farming your neighborhood for leads is a great way to get in front of all the people in your neighborhood. No one should be more familiar with your area than you.
That said, this is a great time to introduce yourself as a local agent to all the homes in your neighborhood. Go door to door and drop off goody bags for the kids and parents in your area, which can contain a few Halloween treats, as well as your contact information.
The most important thing to remember right now is that people have varying degrees of comfortability with in-person interactions. Wearing a mask and keeping your distance when you approach a home are ways to show you respect and care about your clients' wellbeing.
If you have the opportunity to speak in person, even if it's behind a glass door, always mention your expertise in the area — and why that means people should call you over another agent who doesn't live nearby.
Not sure what you need to know to be a local expert? We suggest:
Complete knowledge of attractions such as shops, schools, etc.
Understand pricing in that market and buyer demands.
Reviews from clients in the area (if you have any).
Familiarity with the size of the properties.
Knowledge of lifestyle in the area, such as whether it's mostly singles or families.
Giving out branded items during reverse trick or treating will help potential sellers learn your name. If you have any information on the market, hand it out, along with the goody bag.
No one will turn down useful information with no strings attached, especially if it comes with tasty treats.

Partner with a Business for a Halloween-Themed Contest
A lot of local restaurants or shops will be indulging in Halloween themes. You could partner with one of them to offer a fun contest or giveaway for their customers. Since in-person events are limited in many areas, have the restaurant enter anyone who orders carryout (or dines in) an entry into a drawing for a streaming service subscription or a gift card to the restaurant. You can also give away bigger prizes like a new ipad or television set.
Sponsor the contest, and pay for the prize. As a bonus, you'll develop a relationship with the restaurant or business, and they might send you referral business in the future. In exchange for your sponsorship, they might place an ad on their menu or around their establishment.
To take it a step further, you could also offer employees an incentive to work with you in the future. Offer them free real estate photos or a staging consultation.
This is the type of marketing that brands you to your city. People will start to associate your name with the local places and the town you work in.


Attend or Sponsor a Community Event
If there are events taking place in your area, offer to sponsor one or sign up for a booth. You can make fun branded merchandise like frisbees, water bottles, koozies or bottle openers and pass them out as free gifts.
Have a Social Media Contest
This tactic could grow your social media reach, and for little cost. Offer a gift card to the winner.
A costume contest is a fun and easy idea, or you can make your contest real-estate themed by giving away prizes for the best house decorations. You can announce the winner of the contest on your social media platforms and give out a prize. This is an easy way to get noticed for more than just real estate.
Have everyone submit their pictures with a hashtag like #yournamecostumecontest so you can easily track entries (and get your name out there!)
Host a "Haunted" Open House
Hosting a themed open house is a fun way to get some people interested in attending. Put up some Halloween decorations and dress up the home.
To let everyone know about it, send out letters or brochures to the neighborhood sharing the address, day, time and other enticing information.
You might even want to offer door prizes or some incentive for folks to get there early.