The internet and social media is an ever-changing platform and the way to market yourself as a realtor and your listings follow that path on social media.
Video continues to be more important than ever. 73 percent homeowners are more likely to list with an agent who does video marketing.
Videos have taken over Facebook. They take up most newsfeeds.
So naturally, you need to keep up with this on your business page.
There are a number of things you can do with this feature. It's also simple to use. Just open your Facebook app on your smartphone and start streaming yourself.
Answering questions about listings, yourself, or information on how to sell your house on video, establishes a better relationship with your current clients. Then it gets shared or you can promote ads that redirect to it.
Here are the ways you can use this.
Host a Streaming Open House
A great benefit of this is targeting people likely to move into your area. They would be able to see the house in real-time, something a virtual tour would offer but it would feel more like a showing for them.
Because of Facebooks giant demographics, you can target, it will let you reach a broader audience than posting it on Youtube.
After the recording is done, it will then be on your Facebook page and timeline.
You can use this as added promotion to give your listings more visibility. People who visit your Facebook page will then be able to view these at any point.
We suggest holding this Facebook Live the day before or hours before the scheduled full open house. It can give anyone planning on coming to the open house a sneak peak. Position it as an exclusive look into the home to drum up attention and pull viewers in.
People get excited about any bit of information they think is special or exclusive. Start outside and work your way through the home.
It only takes one person to see the post and share it with a friend who's looking to buy in the area.
Have a Q and A Session About That Listing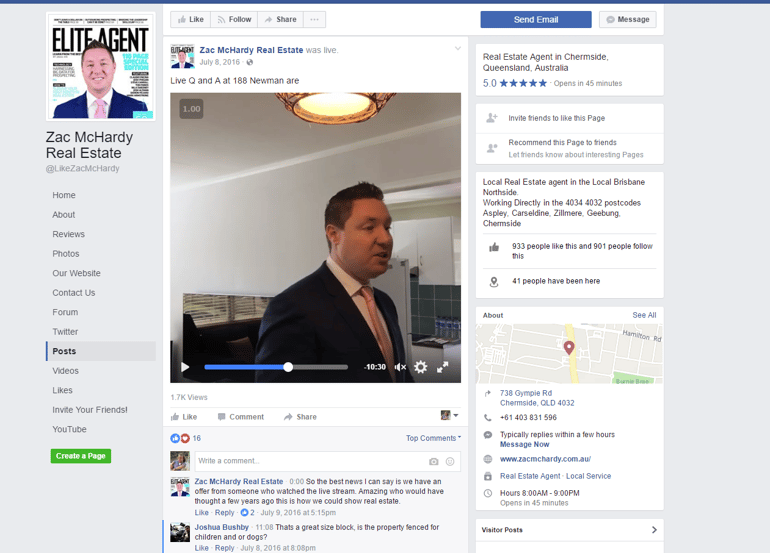 This agent found a buyer on Facebook Live.
Here's an example of an agent who answered questions for 25 minutes while walking through the listed house.
One of his buyers was eventually from that session. This is a great thing to do right after you show each room of the house on your stream. Or it can be a separate stream. You can answer their questions and address any concerns live, which may make them more likely to buy the home.
Neighborhood Tours
You can target the same group that you would for open houses or people that want to move into that area.
Just walk or drive around the neighborhood. Be sure to mention all the schools, shops and places of interest or try and drive or walk past them.
Any viewers should be able to get an idea of what living in that area would be like. This is a big way that you can brand yourself as that local expert.
Showcase any separating amenities that area may have.
Host a Q and A For Real Estate Tips and Trends
This is a great stream to host in your office. A lot of people don't know where to start when it comes to buying and selling.
Host the Q-and-A on a specific topic like first-time buyers or when's the best time to sell your home. General Q and As are good as well.
This is where you can prove your value with the knowledge you have to the viewers. Then when they are ready to list or buy a home, they will contact you.
Topics like how to stage homes, how to financially prepare to buy and home and screening buyers will show any potential clients your expertise.
Since this is wide-ranging, promote it to your entire sphere of influence in some way or another. Even your past clients can benefit from this.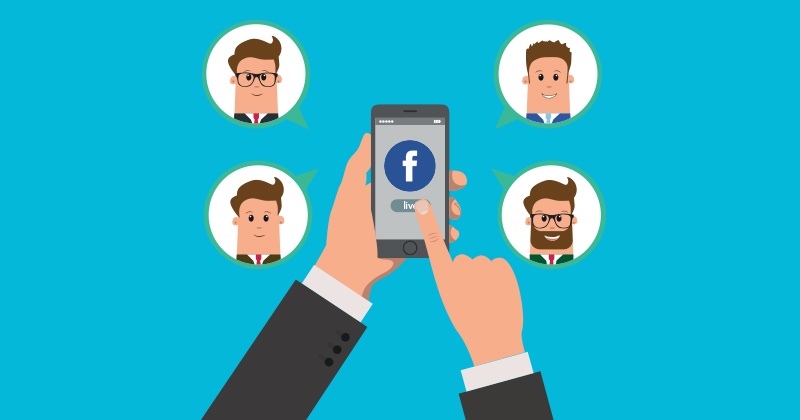 Show any leads what you offer.
Show a Behind the Scenes Look at a Transaction
Think about how many real estate shows are on TV. People love to watch this process play out. They love to watch people make some of their biggest life decisions.
Show how you stage the home and any roadblocks you run into in this long process. Then finish with the buyers getting the keys to the dream home they just bought.
There are a few places on Facebook you can go live on.
Don't go live on your personal page. Your business page is the best place to do this with if it is a regular Q and A, or even an open house.
A local Facebook group is a great place to go live as well. Or a special event page for your open house.
Facebook Live can be a source of leads and client engagement for you on a regular basis.
You to see who engaged with your content to follow-up afterward. This is a platform you should be taking advantage of.
One of the best methods we use at Smart Agents to separate yourself is books. Books have a huge perceived value. They don't get thrown away.

They can get tucked away somewhere, but most people aren't going to toss them in the trash. They're worth something, and they're worth something to the author's name.

Do this and you will position yourself as the authority in your market. When you give away your book, it will separate you from your competition. That's how a smart agent thinks!

Want to get a free sample of the book that will get you more listings? Click the link below.

---

Joe Nickelson is a real estate professional dedicated to helping home buyers and sellers achieve their dreams of owning property, and helping real estate agents stop using the sometimes-vicious tactics that weigh on their consciences. He believes that the Smart Agents books will, quite literally, change people's lives for the better. Check out his full bio here!