Numerous studies show that consumers rely on the opinions of friends and family when they make purchase decisions. More and more, people are now turning to online reviews to find out what others are saying about businesses before they even engage them.
It goes without saying that testimonials are a MUST if you want to continue enjoying results in your real estate business.
A recent study by Boast.com found that customer testimonials are the most effective form of content marketing, with a conversion rate of 89%. Positive feedback from existing customers can let home buyers and sellers know all about your real estate services and expertise.
If you're not collecting testimonials and reviews from your clients and most importantly, making them available online, then you're closing yourself off from a very large pool of real estate leads. As an agent, you can't afford not to collect customer reviews and testimonials.
With the proper techniques and tools, it's easier than you think to collect excellent testimonials from former and current customers.
Let's take a look at the ways you, as a real estate agent, can collect testimonials and generate some much-needed buzz for your business.
How To Effectively Collect Testimonials
From Former and Current Clients
Don't sweat it if you haven't been collecting testimonials from past clients. Acknowledging that you need to start doing so is a great place to start. Here are some effective ways you can reach out to past and current clients to collect their feedback on your services:
1. Newsletters
To get started, send a monthly or biweekly newsletter to all of your past customers. Send different newsletters to home sellers and home buyers for maximum effectiveness.
To elicit action, create a survey using Google Forms or Survey Monkey and include the link in the newsletter.
Keep your questions simple, and mix them up with some that rate your service and others that require long-form answers. See below for a guideline on the questions to ask in your survey.
2. Social Media
When a consumer patronizes a business and wants to share her experience with friends and family, she is likely to use her social media accounts to do so.
Turning to your social media accounts for testimonials is a good thing. You can post a request for feedback occasionally on Facebook, Twitter, Instagram, LinkedIn, Youtube etc. You can also add a review feature on your Facebook business page that prompts people who like or visit your page to leave you a review.
Try offering an incentive to those who leave a review. Maybe offer a small giveaway to generate post shares, or offer a reward for referrals.
3. Online Rating Sites
There are websites and apps that are dedicated to collecting and posting business reviews. Yelp, Google My Business and Facebook are some of the best websites for collecting testimonials from your customers. If you are not already on these platforms, get started now.
4. Your Website
Your website is a great platform to convince people to leave you feedback. You can add a contact form anywhere on your website that web users can use to leave reviews. If you don't want to create a survey, you can share a link to your contact form in your newsletters.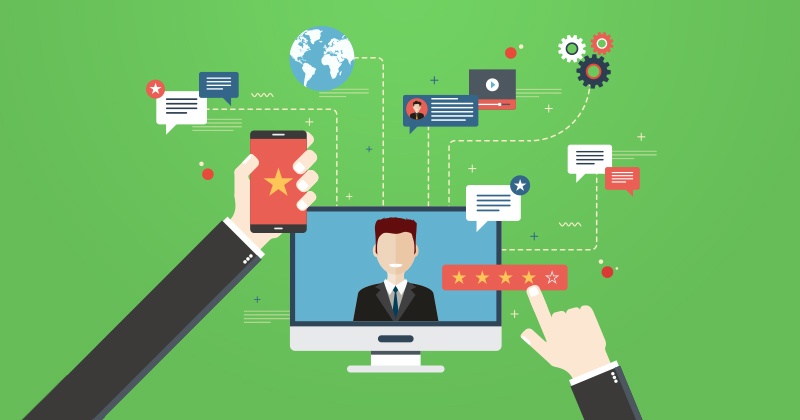 3 Tools to Help You Collect Real Estate Testimonials
It's important to understand that not everyone is interested in writing several hundred words about your business — in fact, most people won't.
To motivate your customers to leave feedback, make their job as easy as possible using these three tools:
1. Boast
Boast is a video testimonial collection tool that you can embed as a feedback form on your website. You can also share this link with your clients. Clients can easily record short videos of their reviews on your business via desktop or mobile.
Once they submit the videos, you can share them with your target audience either on your website, social media platforms or via email.
Clients who don't mind appearing on camera will love this option. The videos can be as long or as short as they want.
2. Typeform
Other clients may feel shy appearing on camera. They may prefer to write down their reviews. For such clients, Typeform is a great tool that lets you send out customized surveys.
Typeform allows you to create unique templates for your surveys, which makes for a better experience for your clients.
You can ask as many as 100 questions (though the fewer the questions the better response you'll receive). You can also add a thank you page at the end of the questionnaire as well as a call to action.
3. SurveyMonkey
SurveyMonkey is a great tool when you want to create feedback using polls instead of open-ended questions. Polls are a fun way to collect responses, as most people feel like they're playing a game instead of actually writing.
SurveyMonkey lets you add custom logos and branding to your surveys to make them more consistent with your branding. You can also integrate it with tools like MailChimp to send out the survey to your clients as automated emails.
The Right Questions To Ask When Collecting Testimonials
Many clients are willing to give leave you a review as long as you know how and what to ask them.
Reaching out to clients with the right questions will make them more willing to give you feedback useful to your business.
Here are some specific questions for collecting feedback:
What made you choose me as your agent?

How impressed were you with…(name a specific service offered to the client)?

What was the best thing I did to help you buy/sell your home?

What could I have done differently to serve your needs?

Did I meet your real estate needs?

Would you recommend my real estate services to your family, friends, or colleagues? Why?
How Motivate Clients to Leave Feedback
While clients are willing to leave you feedback, some won't do it unless they are sufficiently motivated to do so.
So, how do you motivate your clients to leave you feedback? Here are a few incentives to consider:
Get them to participate in a contest or giveaways

Offer a housewarming gift card

Offer coupons

Offer promotional items branded with your company's name and logo
How To Use Your Testimonials
To Collect New Leads And Increase Sales
Getting testimonials is half the win. You now need to use them effectively to collect new leads and increase your sales. You won't achieve this by keeping the testimonials to yourself.
Let's look at some of the best ways to share testimonials with potential clients.
1. A dedicated testimonials page on your real estate website

Create a unique landing page on your website dedicated to showcasing testimonials. This makes it quite easy for web users to check out all of the testimonials you've collected.
2. Share testimonials on social media

Share your testimonials on your Facebook, Twitter, Google+, and other social media accounts. Do this as often as you can.
Once or twice a week is recommended. Marketing automation tools such as Buffer or Hootsuite are great tools to schedule testimonials weeks or even months in advance.
3. Add them your into your email marketing content

Create an email marketing campaign that will regularly highlight a couple of your past clients and what they have to say about your services. These can be client reviews, a photo of a happy client or a call to action at the end of the email leading readers to your testimonials page on your real estate website.
If you want to keep thriving in your real estate business, you cannot ignore the power of testimonials.
All this may seem like a lot of work. If your plate is too full, this is a service you could easily outsource to a virtual assistant.
Haven't used a virtual assistant before and have no idea where to begin?
Fret not.
We have a book that shows you exactly how to do that. You'll learn:
How to find a virtual assistant to set up listing appointments for you.

How to develop a system to handle messaging, even when you aren't there

How to minimize the grunt work so you can focus on real work — finding and closing sales!
---

Joe Nickelson is a real estate professional dedicated to helping home buyers and sellers achieve their dreams of owning property, and helping real estate agents stop using the sometimes-vicious tactics that weigh on their consciences. He believes that the Smart Agents books will, quite literally, change people's lives for the better. Check out his full bio here!