They've already "been there, done that", you've got to do something different to stand out!
Why Expireds?
One of the most obvious niches of real estate, yet also one of the most despised.
Why?
Simply put, expired listings represent failure.
Failure to sell.
The reasons are many, but blame typically falls on the listing agent. So naturally, expired owners tend to have a jaded view of real estate agents in general.
On the flip side, the home owner has tipped his or her hand. By listing, they made it abundantly clear they have a desire to sell their home!
Additionally, they displayed a willingness to work with an agent.
This makes the owner of an expired listing the ideal lead. The moment their listing expires, it becomes a magnet for other agents hoping to jump in and win the re-listing for themselves.
You'll likely find that expired owners are sick and tired of answering phone calls from eager agents. You'll also quickly realize they have been hearing the same thing over, and over, and over again. Each agent they give an ear to has a pitch. Sadly, most of them are basically the same.
Dare to Be Different!
The good news is with so many agents going after expireds in the same way, it's easy to stand out from the crowd!
The first step is to find a way to be different from everyone else.
This may be the single most important step you take toward winning expired listings. As a bonus, you'll be able to leverage this point of difference in ALL of your calls, contacts, and listing appointments.
The concept is nothing new, and pre-dates the specific theory proffered in the 1940s. At that point, this idea of "being different" was given a specific name: USP - Unique Selling Proposition, or Unique Selling Point by a television ad pioneer.
Call it what you will, Point of Difference, Unique Perceived Benefit, Competitive Advantage, the concept remains unchanged.
Bottom line: You need to show a clear and specific differentiation from others in the same field.
Focus on the Benefits!
Large corporations do this well, both physically and psychologically. Just ask around for opinions on Coke vs Pepsi. Or try Chevy vs Ford. While comparisons show many similarities between products, these companies have established a strong base of loyal customers. People perceive a value in one or the other.
In real estate, you don't have a consumable product to flavor, or a utilitarian product to engineer. What you do have is yourself. Nobody else is you, or ever can be.
You are already unique. You've just got to take time to find out what you do better or differently than others, and bring it to light.
Keeping your ideal lead in mind, remember this question: "What's in it for me?"
Answer that question in a unique way. Put a twist on your point of difference that benefits a seller, or buyer.
For instance, you have a large team. While you may be tempted to tout that as a point of difference, don't. Instead, focus on the availability and access a large team provides. Calls and questions will be answered quickly. A whole team of people is working to make the transaction a success.
See how you make it about them?
Get people to sell FOR you.
Expired home owners want to know what YOU will do differently to get their home sold quickly, and for top dollar.
That brings us to another key tactic for winning expired listings: People buy from people.
Bought anything online recently? Which one carries more value, the glowing sales copy describing an item, or testimonials from real people who've bought and used that item?
Testimonials let others do the selling for you!
Want to make a big first impression on expired owners? Build out a testimonial drop-off package.
That's right, drop off.
You're creating a point of difference. So while others call, you mail. And while others mail some version of "an expired letter" they begged off another agent, YOU mail a testimonial package.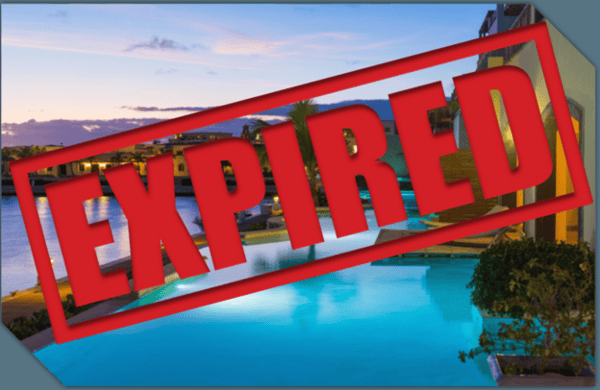 Building YOUR Expired Rocket!
In our brokerage, we call it the "Expired Rocket". Here's how it works:
At the heart of this special mailer/drop off package is page after page of testimonials.
The more you have, the better.
Remember what's important to most expired owners: time and price. Highlight examples where you brought about a quick sale. Note any listings that sold above asking price.
Use testimonials that speak to the point of difference you bring to sellers, and how that enabled a home sale.
Pull together photographs of the homes. Use pictures of the owners you worked with. Let them do the selling for you!
If you only have a handful, start there and begin building your file right away!
If you work for a brokerage, you may be able to use testimonials about the company to bolster your collection, or to get started.
Reach out to past clients. Touch base to see how things are going, and simply ask if they would help. You might be surprised to find how willing people are to put in a good word. If you have clients who you know had a great experience, schedule a call to do a brief interview. If you can, record the call. Just be sure to ask for permission!
Make a habit of asking for quick testimonials on the spot. Catch people in the moment. They'll never be happier than the moment you sign a contract, close a deal, or hand over keys to a new home. Capitalize on that!
A simple tip is to use your smartphone to shoot a quick video or record audio. That way, you can talk freely face to face, and easily grab quotes and notes later.
Who knows... that in itself could be a special thing you do for sellers or buyers: shoot a short "highlight reel" of the big moments, or take a few pictures. Share the video or slideshow with them, as a little "thank you" keepsake.
Grab Attention to Guarantee a Response.
Once you've assembled the core of your drop-off package, you'll need two more things:
#1 – A good cover letter to capture attention and make a bold statement separating YOU from others.
The cover letter we use tackles the price issue head on and asks: "Are you Sick and Tired of Being Told Your Home Didn't Sell Because it was Overpriced?"
Coupled with an image of a woman pulling her hair out in frustration, it's sure to be an attention grabber!
More on that in a bit, but first, the second thing you must do:
#2 - Be sure that you include a CLEAR and simple way for people to contact you. Better yet, give them several ways:
Web link to a landing page

Mobile number with a code to get more info

Text number with a code for more info
You don't want to miss a call, or start a game of tag, so treat it like a sign rider. Give readers a way to "reach you" anytime, day or night, 7 days a week!
In our brokerage, we use a Lead Capture landing page and mobile number. Both options capture a lead's contact information. Agents get instant notifications on the go, and are able to follow up quickly.
Whatever contact options you include, TEST them! Nothing worse than a typo in a link, so be sure everything works the way it should beforehand.
Next comes delivery.
Mastering Your Delivery.
You've put a lot of work into building the package. What can you do to guarantee they get it?
Manilla envelopes (the big 9x12 full size ones) are the perfect way to ensure your package will be opened.
A handwritten address makes a big difference, so grab a sharpie.
Also, if you DO mail them, use real stamps. It will take a few, and real stamps in the corner are guaranteed to pique the owner's curiosity even more.
If you have an assistant, and a good sized list of expired leads, there's another tactic you can use.
Put everything in a slim white box (buy from office supply stores locally or online). Label it as "Special Delivery" or give it a "Courier Service" stamp.
Drop it off at the main door, or lean against a garage jamb where the owners will see it when they come home from work.
Either way you choose, it's all about doing something different.
Follow Up for Listings!
Once you've mailed or dropped off the package, the next step IS a call. Only guess what?
They will be calling YOU.
For the ones who don't, give them time to get your package, and then give them a ring.
Remember, you're not cold calling. You've sent them a package, so give them a follow up call to make sure they got it.
Keep it low pressure. Just let them know you sent them an important package, and you wanted to be sure they had a chance to look it over.
You'll often find expired owners who've had a chance to look at your testimonial package are already sold.
For example, Ben Curry (one of the agents in our brokerage) recently went out to meet an expired listing owner. He'd mailed her an "Expired Rocket" package, and made a follow up call. She had gotten the package, and at first glance was impressed enough to make an appointment.
By the time Ben met her in person, she'd read through the testimonials. Before he could even start, she said: "I want you to sell my home, where do we begin?"
That's the power of testimonials, and creating a point of difference.
There was no competition. He didn't have to haggle or fuss about price. She was ready to list.
You can have the same results with expired listings in your market.
You just need to find the way to be different.
The Secret to Winning MORE Expired Listings!
Now, back to the concept of listing price, touched on earlier...
Here's a little secret about expired listings:
You can fight over price up front and lose a listing, OR you can take the listing, show the owners what you are doing to get their home sold, and then discuss a price reduction.
This is a critical aspect of winning expired listings.
Remember, they are very likely sick and tired of being told their home was overpriced. They probably heard it from the last agent, who failed to sell. They've likely heard it from other agents hoping to get them to re-list at a lower price.
What happens when YOU ask if they're sick of all that? Suddenly the owners are all ears!
But it's important to give reasons why the home didn't sell, and more important to share what you can do to get it sold.
Here's an example of the "list it first, price it later" approach in action:
Listing expired at $249,900. The owners conceded they may have been asking too much, and relisted for $239,900. The prior agent worked a full time job elsewhere, and had given them no attention. We worked with the sellers to make the home more attractive and easier to show. After seeing our marketing efforts, and hearing feedback from several buyers, the owners reduced further to $229,900. The home ultimately sold for $225,000.
There's no way they would have agreed to a drop of $25k up front! Had price been the focus of our first meeting, the chance would have been lost. Once we had proven ourselves, they were much more willing to be flexible.
Sometimes bad or sloppy marketing is the reason a listing expired. Take this story of the home with a million-dollar view:
Late one afternoon, I met the owner of an expired listing. She took me on a tour of the home, as we talked about the previous attempt at selling. Rounding the corner into a large sunroom, I couldn't believe my eyes! The view out the back was incredible. In a very flat part of the county, this home had a beautiful rolling green hill spreading out to meet a distant tree line. The setting sun splashed brilliant colors on the tree tops. I knew I'd stumbled on the million-dollar view that would sell this home. It only took a moment to start snapping pictures.
Turns out the previous agent hadn't even posted a single picture of the view. Everything was focused on the house itself. He'd missed the most unique point of this home, and it was priced higher than others in the area. Our marketing featured the view and surrounding property in addition to the house. Caught the eye of a buyer who had dismissed the listing as overpriced originally. Talked over the phone, and worked out a deal. Hadn't even set foot in the house, but he was already sold.
Selling Expireds is a Simple Formula.
Just like taking time to put yourself in a different position to win expired listings, it's important to help expired listings stand out.
There are a few simple steps you can take to help these homes sell without haggling over price:
#1 Improve the showing condition of the home.
A staged home will sell for 10-15% more than a home that isn't staged. Even without a full staging, a home in good showing condition will sell for more than it would have otherwise.
#2 Improve the marketing.
Take better pictures and write better descriptions. Professional photography makes a big difference. Even if all you do is bring in a fancy camera, the perception owners have is far better than using your phone, no matter how good it may be. Do a full marketing analysis to uncover opportunities other agents missed. Find the unique feature you can highlight to attract pre-interested buyers.
#3 Solve problems holding back a sale
Be a problem solver. Got a listing that has limited hours you can do showings? Schedule a big open house, and bring a flood of buyers through at once. Coming up with creative solutions to troublesome issues will give you an edge over other agents.
#4 Communicate with the sellers every step of the way
Show the owners you are thinking out of the box. Explain to them what you're doing differently. Be open and honest. Let them see you working for them.
After you've won the listing, work through these steps.
Once you have, you'll be in a much better position to start asking for a price reduction. If and when you do, be patient. Don't ever make the owners feel stupid, or push them into a corner where price becomes a fight.
You want to let them know you're doing everything you can, and then ask them to be flexible. If they really do want to sell, and you've done a good job of demonstrating your unique "extra-mile" approach to listing, the price reductions will come smoothly.
With these tactics, you will not only be able to win expired listings, you will be selling expired listings.
You'll soon find yourself saying the same thing we do: "I LOVE expired listings, even when they are overpriced!"
Until next time, be smart, and work smarter!
---

Joe Nickelson is a real estate professional dedicated to helping home buyers and sellers achieve their dreams of owning property, and helping real estate agents stop using the sometimes-vicious tactics that weigh on their consciences. He believes that the Smart Agents books will, quite literally, change people's lives for the better. Check out his full bio here!