For someone in real estate, you are the product you sell.
The most important branding agents can do is to make a lasting impression. Your goal is to be remembered.
Agents with consistent branding have owners come to them.
Jan Shields is a veteran realtor here in our market, Jacksonville, Florida. This is her company website and this is her own website.
Her website is simple, but her brand is built on her expertise and experience.
You can see taglines from each site, "Committed To Excellence" and "Putting My Clients First".

Her target audience is older luxury home owners around the beaches. So she doesn't need a fancy website or tons of technology.
Her brand shows her longevity and expertise in that area. It's consistent on both sites and doesn't try and do too much.
When an owner wants to sell or move into this area, if they search online or ask around for recommendations, chances are they'll be directed to Shields.
You don't need to have the longevity or awards she has to use a clear brand and have a defined niche.
There is also a tab for community info. on her personal site. From there you can access different areas the population's demographics, amenities, and schools.
The bios on the website focus on her clients, just like everything else. It answers these three questions.
What do you offer clients that other agents don't?
Why would a client choose you over the competition?
Who is your ideal client?
Defining your specialty and differentiating yourself is how you stand out.
Being specific here is big. There are a lot of ways you can do this.
The first thing to do is define a target area.
This is one of the most straightforward ways to stand out. Get to know your desired neighborhood in and out. Meet the neighbors.
Establishing yourself as the top expert on one particular neighborhood or type of community is a huge deal and something that owners will seek out.
Jan Sheilds main target area is around the Beaches in Jacksonville. She does work all around the city, but by looking at her current and past listings you can see where she focuses.
Highlight schools in your area for your marketing. Schools being near homes are huge. Buyers and sellers have this in mind during this time of year, much more than any other time.
Neighborhoods with at least one good elementary school or middle school have greater home values as well as higher home price appreciation over the long term compared to homes without good schools.
Get to know the amenities around the neighborhoods you want to work.
Go form relationships with the local business. Offer ad space on your website of to do a promotion with them.
This is how you become synonymous with that area.
An email newsletter or social media post is the perfect way to show that you're a local expert and can be a useful resource. Being connected to your community and known locally will bring you referrals quite often.
This is how you show that you are a local expert and a resource people trust.
By no means does it have to be all about real estate. Even if you send out a newsletter at any time, it should never be just about real estate. That's going to tune a lot of viewers out immediately.
When you send out a newsletter, put something together that tells your readers where the fun is happening in your town.
Bring up anything that will interest residents in the area.
This can be:
Concerts
Festivals
Any type of event.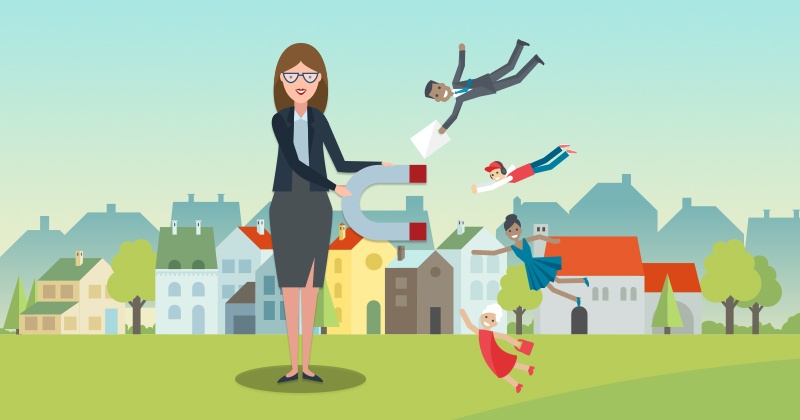 Brand yourself as the expert with the kind of homes you work with the most.
Jan Sheilds works mostly with luxury homes. But the good thing about knowing the entire market is that you are by no means restricted to your niche.
Family homes, condos, and vacation homes are niches you can focus on.
Keep your brand consistent on every platform.
From social media to flyers, keep the message consistent and clear. It's what you're going to be recognized by.
Stein's tagline is about providing the best customer service. And she does just that. So owners flock to her.
Base some of your marketing campaigns on a phrase like that. Always getting the home sold, getting the best price or making client's lives easier, are things that owners look for.
This is how the best realtors live of off referrals.
They become known for certain aspects and niches of their job. Then they build a client base that is drawn to their brand.
They end up getting tons of referrals and repeat business from that client base. This is what a brand can do for you and your long term business.
A compelling backstory in your bio is big.
It's a part of the site that shows you are a real person and then lets them build some type of human connection with you. In fact, about pages on agents and
In fact, about pages on agents and firm's websites are often some of the worst written pages. So many times it is just done to be finished as soon as possible, and the agent doesn't know what to say.
Your history and why you are a realtor is an important part of your brand.
Just be yourself and spell out why you chose to be an agent and how you started. People appreciated earnest writing and can see through anything else.
I suggest to keep it in first person. They want to hear from you, not someone else.
Tell stories that people will remember and ask about in person. If you stand out here, it can me be a good talking point on the phone or even when you first meet. Share unique stories about your life and your work. This is what people want to learn about you.
Your social media (and other parts) of your marketing can show glimpses into your personal life.
This helps make connections with future and past clients. The more they know you as a person the better.
Smart Agent's members have access to a system that solidifies their branding immediately.
With the My Books program, agents can brand themselves as experts with the use of their books.
By having your face on a book on how owners can sell your home, you become trusted as an authority.
Books have a huge perceived value. They don't get thrown away.
Hand them out instead of business cards. How many business cards to people get? Hundreds.
How many free books to people get?
They can get tucked away somewhere, but most people aren't going to toss them in the trash. They're worth something, and they're worth something to the author's name.
Do this, and you will position yourself as the authority in your market. When you give away your book, it will separate you from your competition.
That's how a Smart Agent thinks!
This can brand you faster and more long term than other marketing plans.
Want to get a free sample of the book that will get you more listings? Click the link below.
---

Joe Nickelson is a real estate professional dedicated to helping home buyers and sellers achieve their dreams of owning property, and helping real estate agents stop using the sometimes-vicious tactics that weigh on their consciences. He believes that the Smart Agents books will, quite literally, change people's lives for the better. Check out his full bio here!