While there are, of course, exceptions to every rule, the fact is that there are a lot of unscrupulous flippers out there.
Some hide things like structural issues, mold, and faulty wiring — practically Darth Vader-level stuff.
Many of them give a bad name to the real estate business — but the good news is, there are ways that agents can beat them at their own game.
But first, it's important to understand what we're dealing with.
KNOW THY ENEMY
Most flippers look for situations where they can get away with paying less than the fair market value for the property.
Some prey on people who are hurting, not in a clear headspace, and just want a fast sale. This could include grieving adults who've just inherited their parents' place or people who've recently gone through a divorce. Flippers often offer a quick closing and an all-cash purchase, which certainly appeals to these particular sellers. The problem is, of course, that flippers pay way less than they should.
How much less? Well, it depends. According to The Washington Post, flippers who roadside signs saying things like, "We Buy Homes Fast!!" tend to pay only 50-60% what a home is worth.
Other easy targets are people who don't understand the real estate market, like first-time buyers, or people who are more easily duped, like senior citizens. HUD says it's common for flippers to scam the elderly.
Flippers convince these vulnerable people that, for one reason or another, they won't be able to sell their houses. Once the lies have worked, they offer to buy the property, which is a relief to the seller. Again, as you might guess, flippers purchase the home for much less than it's worth.
It all comes down to money, so let's look at an example:
Tara's mom just passed away, and Tara inherited the house. But she lives out-of-state and doesn't want to deal with taking care of it or finding renters — she just wants it off her plate.
An "ambulance chaser" flipper learns about Tara's recent loss and swoops in, offering fake condolences and a "generous" offer so Tara can sell the house. Because she's grieving and just wants this behind her, Tara hasn't done any research. She doesn't know the house has a fair market value of $150,000. All Tara hears is an all-cash offer of $100,000 with a quick close and no need to worry about any of those pesky closing fees or Realtor commissions.
Of course, the flipper isn't going to tell Tara that if she worked with a real estate agent, she'd likely get the extra $50,000; minus the $7,000 in fees, Tara could still get an extra $41,000 in her pocket.
And that's just how they treat the sellers!
BUYER BEWARE
Of course, buyers can also be scammed — and it's even worse because their lives could be put at risk. Flippers are notorious for making properties look great on the surface but cutting corners behind the scenes.
Again, a flipper's main goal is to make money, so they cheap out wherever they can, including doing work they have no business doing. They might attempt plumbing or electrical work themselves, leading to major leaks, circuit overloads, or, most horrifically, fires. They've also been known to cover up major issues like termite or water damage, roof leaks, knob-and-tube wiring, and old or insufficient insulation.
In an article in Minnesota's Star Tribune, a home inspector shares some of the things he's seen in poorly flipped houses — everything from loose countertops and handrails that fall off when you use them to clogged drains and broken air conditioners you wouldn't think to check because the home is being sold in the winter.
He also says issues with the exterior — both the ground pitch and the structure itself — are extremely common. So buyers might be dazzled by the new, energy-efficient windows and not notice the old casings are still there — completely rotted out.
As you might guess, it's common for flippers not to pull permits; sometimes they'll pull the permits but won't get the inspections done. One couple found this out the hard way. As CNBC reported, a couple in Washington, D.C., were thrilled to find their dream three-bed, three-bath row house condo in the perfect area. They loved that it had been recently renovated — until they got a call from a housing inspector who was reviewing homes that had been renovated by this particular flipper.
After the inspector went through their place, he gave the couple lists and lists of things wrong with the property, including the fact that, legally, they only had a one-bed, one-bath home thanks to an illegal addition. They had to pay over $100,000 and deal with lengthy fixes just to bring their new home up to code.
HOW FLIPPERS HURT AGENTS
We've already mentioned this before, but just in case you're new to the game or one of the lucky few who hasn't had a flipper run-in, here's what you should know:
Flippers are all about the money. One way they make sure they get the biggest profit possible is by not using Realtors. After all, no Realtor, no fee!
Some also have a sneaky tactic to get properties — they watch listings, and, as soon as they expire, contact the owners. Some owners are so grateful to finally get a buyer that they don't care about not getting the price they were asking. Meanwhile, the agents who help with the inspection and appraisal, did the marketing, and showed the houses miss out on the commission, getting exactly $0 for all their hard work.
HOW YOU CAN FIGHT BACK
One way to combat the bad guys is to focus on their favorite niches, like inherited homes, owners who are behind on property taxes, people who don't live in their homes, and recently divorced couple.
Another important step is to educate, educate, educate. Come up with a detailed list of things to look for/ask about in a flipped property and share it with your clients. Write about the dangers of selling to/buying from flippers (or "real estate investors," as they sometimes call themselves).
Post it on your blog, send it out in your e-newsletter, blast it on social media — anything you can do to alert buyers to the truth.
Also, be sure to let potential clients know about all the benefits of using a real estate agent over a flipper. Agents are licensed, adhere to a code of ethics, can walk clients through all aspects of buying and selling, and will ensure the home gets sold or bought for fair market value.
Don't forget to hammer home that the vast majority of people who sell with a Realtor net more money than those who sell to a flipper — even after any fees.
And no matter how big a "Star Wars" fan you are, and even if you have an appropriately named client, please refrain from ever saying, "Luke, I am your Realtor." We'll leave the dark side to the flippers.
If you want to get a leg up on one of the prime markets for flippers, grab a copy of The Ultimate Guide to Dominate Expireds, which includes 24 proven strategies to list expired homes.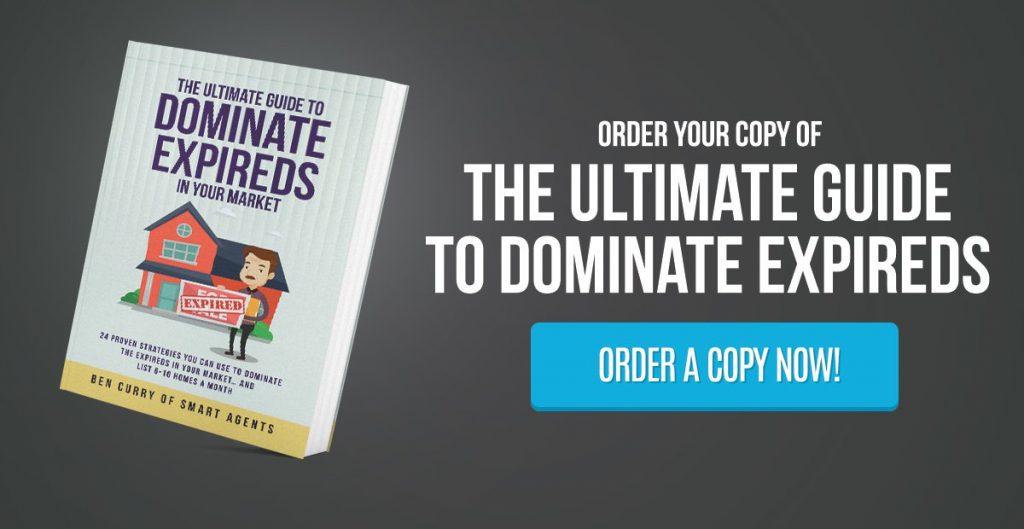 ---

Joe Nickelson is a real estate professional dedicated to helping home buyers and sellers achieve their dreams of owning property, and helping real estate agents stop using the sometimes-vicious tactics that weigh on their consciences. He believes that the Smart Agents books will, quite literally, change people's lives for the better. Check out his full bio here!