Fall and winter are underrated times for sellers to put their homes on the market.
Halloween is an excellent opportunity to appeal to these sellers - since they could be literally walking up to your door.
There are a lot of times during this Halloween weekend to pass out any material to parents or even brand yourself to your area.
It's a great time to host an event, sponsor an event or give a gift to unexpecting parents - all things to endear you to the owners.
Here are some ideas you could use this weekend and next week to attract some sellers.
Reverse Trick or Treat Your Neighboorhood
Farming your neighborhood for leads is an idea we use and like to teach at Smart Agents. Noone should be more familiar with the area than you.
This is a great time to introduce yourself as a realtor to all the homes in your neighborhood. Hand out goodie bags with treats and your information inside.
This is a good time where people won't be bothered by someone knocking on their door and talking to them for a while.
When you are there mention your expertise in the area - and why that means they should always call you over someone who doesn't live there.
Here's what you need to master and prove to them over an agent from another part of town:
Complete knowledge of the surrounding area (shops, schools, etc.)
Understand pricing in that market and buyer's demands.
Reviews from clients in the area (if you have any).
Be somewhat familiar with the size of the properties.
Know where people work and if it's a family oriented neighborhood.
Giving out branded objects during reverse trick or treating will keep your name in their mind. If you have any information on the market, give it to them then as well.
No one will turn down useful information with no strings attached.
Partner with a Local Business for a Halloween-Themed Giveaway
A lot of local restaurants or shops will be doing Halloween themed weeks. Sponsor a contest where people put their business card in a bowl to enter.
That's just one of the many ideas you could go with. A pumpkin pie eating challenge is another idea. Sponsor that and pay for the prize.
It can be something like a gift card to that place. Maybe this can lead to more of a partnership between you and the business.
Offer local restaurant or stores employees a special discount for your service and see how popular you become in those places.
Then they should be quick to refer you or let you place a sign in their place. We've seen agents with ads on menus or mugs. This can lead to that.
This is the type of marketing that brands you to your city. People will start to associate your name with the local places and therefore the town you work in.
Each holiday is an opportunity to open the door up for something like this.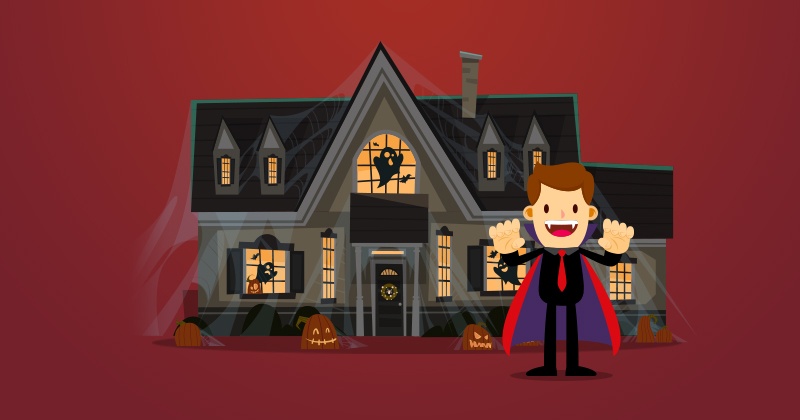 Hand Out Information when Families Come Trick or Treat
This is like our first idea, but just the standard way of trick or treating. Give out things with your name or contact information.
Our members would give out a branded book with their face on it in this situation.
The fact that you live in the neighborhood and are familiar with it separates you from your competition.
You have something huge to connect with them about. This is not as effective as doing the reverse trick or treating, but the opportunity is still there.
Anything you hand out needs to have a call to action on it.
Without this, it's almost pointless to hand out. It needs to have your contact info on it - saying "get in touch with me for a free home valuation; it could be worth more than you think."
Or send them to your website for more information.
Attend or Sponsor a Community Event
A lot of neighborhoods, schools or centers will have a trick or treat event or a pumpkin carving event. Take part in it and give out material with candy there.
That's a good way to get out there, but sponsoring the event is even better.
This may seem like something that takes a lot of effort. But it really doesn't.
And it's worth it. These are hundreds of leads you are dealing with, and that's before word of mouth comes into play.
Have a Social Media Contest
This could grow your social media reach, for little cost. Offer a gift card to the winner.
A costume contest is the best idea. Then you can announce the winner of the contest on your platforms and give out a simple prize. This is an easy way to get noticed for more than just real estate.
Have everyone submit their pictures with a hashtag.
You're going to build up your online presence with this and can even form business relationships with the stores or restaurants that you're giving the gift card away from.
Then you can exchange ads with them later.
Then add all the leads from your contest onto an email list and ask them if they would like a free home valuation.
Host a "Haunted" Open House
Hosting a themed open house is a fun way to get some people in there. Put up some Halloween decorations and dress up the home.
Here's a great way to make it unique and get the neighbors in the door. Send out letters or brochures to the neighborhood saying an open house will be on a certain day from 2 to 4 P.M.
Tell them in the letter that people who live in the area have a special showing and catered food at 1 P.M.
Make Sure All Your Information on Flyers is Up To Date
This is prime time to give out information and stuff community boxes with fliers. It can be advertising for yourself or any listings you have.
Like I said before, make sure they all have a call to action.
Our members can give away their books at their door or other people's doors.
This weekend is a massive opportunity for the Smart Agent members to get the books into hands of some owners.
Everyone will be accepting of a book, even if they are thinking of selling down the line.
One of the best methods we use at Smart Agents to separate yourself is books. Books have a huge perceived value. They don't get thrown away.

They can get tucked away somewhere, but most people aren't going to toss them in the trash. They're worth something, and they're worth something to the author's name.

Do this and you will position yourself as the authority in your market. When you give away your book, it will separate you from your competition. That's how a smart agent thinks!

Want to get a free sample of the book that will get you more listings? Click the link below.
---

Joe Nickelson is a real estate professional dedicated to helping home buyers and sellers achieve their dreams of owning property, and helping real estate agents stop using the sometimes-vicious tactics that weigh on their consciences. He believes that the Smart Agents books will, quite literally, change people's lives for the better. Check out his full bio here!