---
A big part of being a realtor is helping people.
That's what Smart Agents do, and that's what we take pride in.
There are opportunities to help people in tough situations all the time. Divorce homes are no different. It is a wacky niche, and a sad or even messy one a lot of the times.
But it can be one of the most profitable ones, and it has a lot of consistency.
According to government statistics, 1,200,000 couples get divorced each year.
So by no means is this a small niche, even though it does go unnoticed by many.
These couples need help and usually have to sell.
A whopping 61 percent of all divorcees end up listing their home for sale. You see where we are going here.
That's 732,000 homes that go up on the market each year. In every city, 3.6 percent of the population in each city gets a divorce each year.
Just in the state of Florida alone the average jumps to 4.5 percent of the population.
So if 61 percent of them sell, that's a big piece of the pie. So just an example, an area with a population of 50,000 people will have about 108 divorces list their home each year.
There is very little competition for this niche, and you could list a lot of houses.
The best part of this? These couples HAVE to sell.
The worst part is it's a bad time for them, and they don't like to sell.
But they still have to to get everything over with, and it's up to us to make sure they don't succumb to investors or lose money making a fast sale.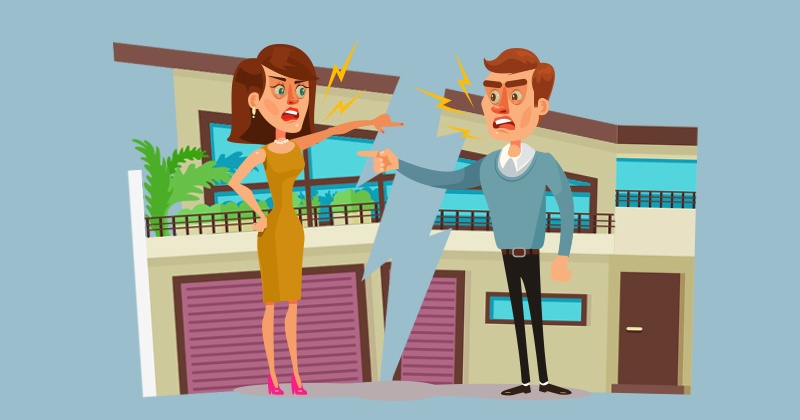 These will be some of the most motivated sellers that you encounter.
Divorce rates have been rising throughout the last ten years or so.
This is because the hotter market and hotter economy increase the number of divorces.
It's sad, but it's true. Since the market has gone up, they're getting more equity in their home.
People who didn't have the equity to sell their home previously can sell it and even make a profit.
But this isn't any new news that money is one of the main driving forces between couples getting a divorce.
They go out at and price their home at appraised value.
Then they try to get it sold, as fast as they can, to finally put an end to it all.
Some of them are even ordered by the courts to sell, and many times there's a time put on how long they have to get it sold.
Not only that but the court can also assign a price it must be sold at, but this only happens in some cases.

If you get involved and offer to help in the beginning, you should get that listing almost every time.
Smart Agents have to understand that they're helping these families when they need it the absolute most.
Who's better than working through emotional issues and dealing with them? As realtors, we are experts at working through these things.
Divorce leads are the type of thing that keeps paying off over and over again as well.
If you do a great job and help them, which you will, it's the type of thing that's going to get you a ton of referrals down the road.
It's frequent that realtors sell a home for the divorced couple and each of them each buys a house and use you as their agent.
In that case, you get three listings with just that one lead. That's before they refer you to anyone else, something that usually pays dividends for Smart Agents.
So how do you get these listings?
Find the addresses online and pursue the leads.
Work with divorce attorneys and get their referrals.
The best way to find the addresses is to go to your county's Clerk of Court website and individually pull each of them up.
Just search "your county" Clerk of Court on Google and find the list from there.
Remember, 61 percent of the leads you get there are going to end up listing their home.
So if you pull 20 of them, 12 of the families will be listing their homes. That's why it's so important to get to them first and early in the process.
Find them by date.
That's going to set yourself up to be the first person they call when they are ready to list their house.
Next, reach out to them in some way. Smart Agent members can send them their licensed books.
Calling them and asking for the listing won't endear you to them.
Do something to demonstrate your value.
You want to be an asset for them.
Ask them if they have any questions about anything on their home, the market or anything involving real estate.
Be their information source for the topic.
Working with an attorney is more efficient and builds a quicker and stronger rapport with the owners than reaching out cold.
This is a much easier way to start your relationship with these couples. It starts by reaching out to divorce and family lawyers in your area.
Think about it, how many connections to divorced home leads do they have?
The follow up is so much easier and less stressful in this situation. One of our members, Sharon, has won listings and leads like this.
"Yeah, actually I have a pretty awesome, website that I connect with local businesses and vendors, so in exchange for him helping me promote my business, I'm doing the same for him too. So, he's on my website for a referral for family practice," she said, "And right now I have, one, two, three, four, five, six, seven … seven listings on my board, and three are from the book and divorce lawyer."

Just leave something of value and with your information at these attorneys office.
This can be a brochure, pamphlet or any marketing material that you use. It works even better if you brand yourself as someone "who specializes in helping divorced couples in bad situations."
Since they are reaching out to you for this help, it's more than a hot lead.
If they don't reach out to you, get in touch with the attorney and see if anyone needs their home sold. He or she could give their information to you but will have to ask the owners if they are ok with it.
Work with the attorney and have them recommend you to their clients.
This is even better than following up with them. Offer to trade services or even pay the attorney outright for recommendations.
If an attorney recommends you to clients as the specialist who will sell the home, you have a high chance of winning that listing.
It is your job to convince the lawyer and the owners that they need an agent, or if they are in a rush, they could succumb to investors.
If you're in this position, then you will be the first agent they hear about and speak with.
This is another huge benefit to this. If they see your books or marketing material in the office and the attorney mentions you early, you are three steps ahead.
That's what makes this so much simpler than contacting cold divorce leads. Even if you are coming in with the best intentions, there will always be a level of skepticism when they get a call.
Getting to them early in the process is what wins these listings.
You can target lenders who work with divorcees the same way.
Go into these offices with an open mind and the right intentions. Talk to the lender or lawyer and treat them like the business partner you hope they will be.
---

Joe Nickelson is a real estate professional dedicated to helping home buyers and sellers achieve their dreams of owning property, and helping real estate agents stop using the sometimes-vicious tactics that weigh on their consciences. He believes that the Smart Agents books will, quite literally, change people's lives for the better. Check out his full bio here!