First impressions are everything. We all know this though.
For agents, they're even more important and tougher.
Most agents sound the same to an owner.
Or they're easy to see through and turn off the owner.
Think of used-car salesmen. Most of them just hammer away about having the lowest prices.
One of them broke through that routine for when he meets customers for the first time.
The Sewell philosophy is simple: treat the customer as you would like to be treated. His list of ten commandments of customer service includes such rudimentary ideas as asking customers what they want, then delivering more, and not charging for a service that you'd do for a friend for free. Is this what corporate America should mean by value added? Very possibly.

Sewell figures in a lifetime a satisfied, loyal customer will spend $332,000 at his dealership. Keeping a satisfied customer, he says, is more cost-effective than trying to replace an unhappy customer with a new one. It may be a standard selling notion but it bears repeating.
While car salesmen are talking about the lowers price, he won't even mention that.
By focusing on the customer and their needs, he separated himself. When people buy a car price is the most important part, but if they trust and respect the seller, the price will come with that.
He focused on the best service possible.
You face a similar situation when you pursue a home owner. If you say something that comes across the wrong way, you put yourself in a hole.
If you sound like everyone else, you're not going to get picked. If the owner thinks you're only in it for the money, you won't get hired.
Your first message or conversation should portray your business values and your brand.
Here are the mistakes to avoid the first time you reach out to a lead.
-On the Phone
This is the easiest place to blend in with every other two-bit agent. If you sound generic, the person on the other end will tune you out.
There is a fine line between coming off as generalizing or coming off as specializing.
"I can sell your home in 60 days," comes off as generalizing. You're not mentioning anything specific about the home.
Know the area and size of the home before you call. A couple of minutes of research can make all the difference.
Mention something about the home, market or size and then tell them how you can sell the house.
That comes off as specializing in their home sale, not every home sale.
Don't sound scripted.
You can use a script, but make sure the owner can't tell. If you sound like you aren't sincere, they're going to notice, and it's a turnoff.
Having scripts is a good idea. They can work a lot. But you have to use them correctly.
Practicing them with someone in your office or your family is a great way to be comfortable with your script.
You need to be good at altering scripts on the fly if you use them.
Not every situation is the same. You already know this.
But if you stumble when adapting the owner's situation into your script, your relationship will start off poorly.
They probably are expecting realtors to be distant and scripted. Their trust in you will already be off to a bad start.
Don't ask for the listing.
Agents do this all the time. Calling and saying, "Do you want to list with me?" just harms their chances.
Talk to the owner and prove your worth. Noone likes someone calling and asking for their business.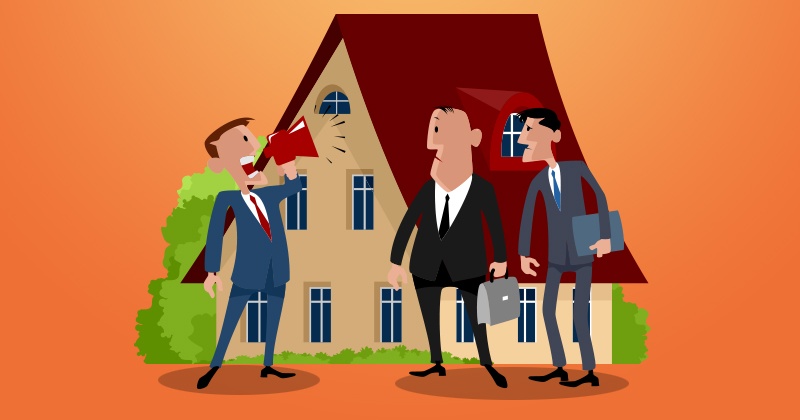 -Meeting an Owner in Person
Don't come across as distant. The more personable, the better.
If you seemed pre-scripted and versed in person, it's worse than on the phone.
Just like that used car salesmen learned, mentioning the money involved more than once will turn customers off.
Make sure they can tell you are invested in them and their home. Not your commission.
An agent who repeatedly talks about how much money he can sell the home for is seen as only in it for that cause. The bigger the sale, the larger the commission.
If you first meet them in person, it's a huge waste not to prove your worth there.
If you meet and talk about the home and see if they are interested and leave, that's just blowing a huge opportunity.
Come prepared with knowledge about their market and comparable houses. Try and help them or give them any advice.
This goes much farther than asking for the listing. This opens the door and giving you a chance to prove what you can bring to the table.
So be prepared when you target these owners. If you help them and don't ask for the listing, that's going to build their trust in you.
You have to do this for a number of reasons:
Most agents just mention how they will get the home sold.
The owner probably thinks realtors are worthless.
Helping them is the goal here. This does that.
It shows the owner you aren't just it in for the money.
Stopping by and meeting them while giving them something helpful will go a long way.
This is one of our favorite methods at Smart Agents. It is one of the most personable ways you can contact them.
Even if they aren't home or don't want to be bothered, drop off a book, pamphlet, or anything else that will help them learn about home sales.
If you are door knocking, bringing food, cookies or any trinkets with your insight is a great idea.
What not to say in an email:
The "One Size Fits All" Email
This is one of the worst things you can do with your list. It is going to put a gap in any relationship you have with the customers that don't apply to the email. Writing one or two email and blasting it off to your entire list every week, hoping it resonates with the multiple niches you have won't work.
You need to segment them into groups. Buyer leads, sellers and even the different type of homeowners they are will all prevent this. Just make sure when you send out an email, everyone receiving it applies to what you are talking about.
No Clear Call To Action
Make sure it is easy to for the audience to quickly understand the point of the email. This also means that you should never have two reasons or different things to tell them. That is going to cause problems with the relations.
Clear CTAs are proven to lead to higher click-through rates and customer engagement. So keep it simple.
Useless Words or Sentences
If a customer reads a sentence or even a paragraph and doesn't see it useful, they're going to unsubscribe. Don't ramble and waste space. Take as long as you need to get to the point in your messaging, but take no longer.
The only way to get and keep the viewer's attention is to cut straight to the point. Respecting their time maintains a good relationship.
Bad Email Sign-Offs
Adding some links and logos to take the viewer to your social media pages and your website is one thing, but a picture of you or any of the houses you are listing is not ideal. If the point of the email is to inform buyers of listings, then put that in the body.
It is not the place to have a short bio or a detailed paragraph about your company either.
Buzzwords to avoid at any time:
"I would like to"
This starts off poorly and separates you and them. Make the owner feel like you are (and your goal is) to be a team together.
This doesn't strengthen the relationship.
"Kicking Tires" and "Checking In"
These sort of lead offs signify that you have little to nothing of value. What owner is going to waste time on the phone just to check in with nothing going on?
"Well-Maintained Home"
If you're broadcasting your listing or you've found some prospective house for someone, this is not a good description. It basically means not the worst. If there are good qualities, use them, and it will be assumed the home is well-maintained.
"Trendy"
Try to use something else to describe something that is popular. Mostly because saying something is trendy doesn't describe much about it, and it can be used and slanted for almost everything.
Don't go to someones home and look around and tell them you can sell it because it is trendy.
Follow a solid plan with each contact you have with a lead.
This is what the best agents do. They know exactly when and how they will get in touch with a lead.
They know exactly how they will lead the conversation. Last week I wrote about planning out your week.
This falls right into that and may even be more important.
It's about trust and familiarity. You build that by building your rapport with an owner.
One of the best methods we use at Smart Agents to separate yourself is books. Books have a huge perceived value. They don't get thrown away.

They can get tucked away somewhere, but most people aren't going to toss them in the trash. They're worth something, and they're worth something to the author's name.

Do this and you will position yourself as the authority in your market. When you give away your book, it will separate you from your competition. That's how a smart agent thinks!

Want to get a free sample of the book that will get you more listings? Click the link below.
---

Joe Nickelson is a real estate professional dedicated to helping home buyers and sellers achieve their dreams of owning property, and helping real estate agents stop using the sometimes-vicious tactics that weigh on their consciences. He believes that the Smart Agents books will, quite literally, change people's lives for the better. Check out his full bio here!