You love getting mail, right?
When you're expecting a package, you simply can't wait for the mailman to drop it off so you can tear up the packaging material and get to the contents.
You know what? You're not alone.
Your clients, too, are part of the 79% of consumers who act on direct mail immediately, compared with 45% who act on email communication.
This is a huge number of potential clients — a big enough reason to consider adding direct mail marketing to your lead generation strategy.
What is it?
Direct mail marketing, also referred to as warm calling, is the practice of sending a physical piece of mail to potential clients. You can call for follow-up after a few days to persuade your prospects to take some action or purchase your product or service.
Let's say you have a listing of all the properties you're selling. Instead of putting them in an email and sending them to potential leads, put them in a catalog and send it out.
The beauty of this strategy is that although people may not go through your entire catalog, when you make the follow-up call, your name may already be familiar to them.
If implemented properly, direct mail marketing can increase your success exponentially. People tend to feel a deeper personal connection with a brand that sends them postal mail as opposed to one that sends them emails.
Direct mail marketing is more expensive and labor-intensive than sending emails, but it also can be insanely profitable because it's a highly convertible form of marketing.
What Type of Direct Mail is Most Effective?
The first step in creating an efficient direct mail marketing campaign is to decide what type of mail you want to send to potential clients.
Let's take a look at the different types:
1. Postcards
Postcards are the most economical form of direct mail because they aren't as expensive to produce and send compared to other formats. Postcards are most appropriate when you want to trigger interest in a special offer or deal that you're running. This will prompt the receiver to take further action— like visiting your website or calling your office. The downside is that they are small and give limited information (and are easily disposable).

2. Standard Letters
Standard letters are believed to have a higher response rate because you can customize them. Increase your response rate by addressing the prospect directly, and make the letter personal. You should also personalize the envelope. It's a great idea to have letters personally signed off by someone of authority within your business, such as the CEO or owner.
3. Self-Mailers
These are similar to postcards, but they can be mailed without an envelope or any form of wrapping. Simply fold them in two and seal. This form of mail will bring your printing and mailing costs down exponentially.
4. Catalogs
Catalogs are a popular form of mail that have been used for years. They are popular because you can compile different products and offers into one catalog. If you want to show your prospects all of your current listings at once, a catalog is the best way to go. The downside is that catalogs are more expensive to produce than other mail formats.
5. Agent Comparison Charts
Comparison charts show what you do compared with what other agents do to market a home. This is a great way to showcase why you're the better option.
6. Photo Brochures
You can print photo brochures on an 11x17 piece of cardstock and fold them in half. These are great when you want to demonstrate how you're going to advertise your prospects' homes.
7. Books!
Giving someone a book with helpful real estate advice can leave quite an impression. The beauty of books is that they make you look like an expert.
Imagine having a book with your photo on the cover! Your face will already have a place in your prospect's mind, making your business relationship more personal. Plus, books hold value. People are less likely to throw them away.
But how do you even begin writing your own real estate book?
With our MyBooks program, you don't have to.
We give you the license to use 14 real estate books as your own, training strategies on how to use them to get leads, and more.
Check out membership details here.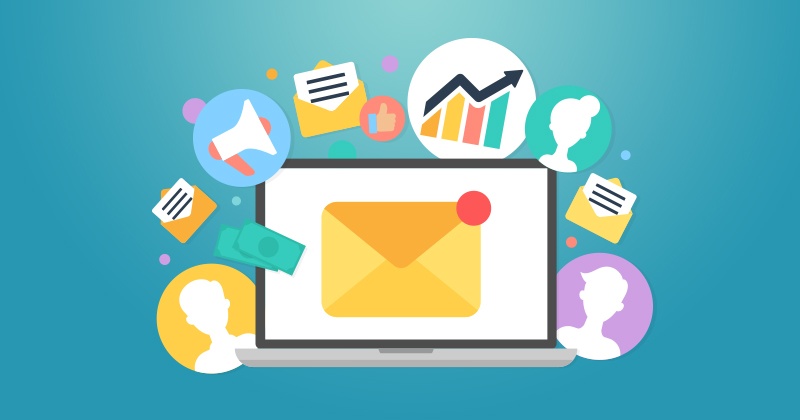 So how do you choose the right format?
This will depend on a few factors, including:
Your budget

— If you have a good marketing budget, books will be your most effective form of marketing. If you want to share as much information as possible, you can also include a catalog of current listings with your books — just insert them like a bookmark! However, if your budget is lean and you still want to create brand awareness, postcards and self-mailers are good options.

Type of product or service you're offering

— The assumption here is that you're hoping to list properties. In this case, a letter may not communicate as effectively as a catalog or postcard, which are more colorful and eye-catching.

Your target audience

— If you're targeting past customers, you don't need to offer them info about your business, so a simple postcard will suffice. For new customers, you should send a book or catalog so they can learn more about you.
How to Write Direct Mail Copy That Converts
Once you've figured out which format is most appropriate for your real estate business, the next step is to create copy that will convert leads into customers.
Whether you want to list a specific home or just increase traffic to your website, you want the receiver to take a particular action after receiving your mail.
Once you've defined the goal of your direct mail marketing campaign, you can write copy that will help you achieve that desired goal. This is called persuasive sales copy.
Persuasive copy should grab attention, arouse interest, and spur action.
To begin, create a catchy headline. This is the first piece of your copy the receiver will read. Make sure it grabs their attention. As you craft your headline, ask yourself what desire or need is driving your reader and how you will fill this desire or need.
The next part is the introduction. This has to be strong and direct. As your prospect reads, their attention shouldn't waver. Keep them interested to the end.
Use a simple, to-the-point, and benefit-driven message.
How To Keep Your Direct Mail Marketing Effective
To get the most out of your direct marketing campaign, create a strategy to guide you. Your strategy should address these issues clearly:
Consistency
Your direct mail marketing should always be consistent. Sending one piece of mail per year won't benefit your business. To maximize effectiveness, send mails consistently. This way, you increase the chance of converting leads into clients.
Target Audience
Not all of your prospects will respond to direct mail the same way. Categorize your audiences into small groups depending on their real estate needs, preferences and demographics. Use different direct mail formats for different audiences.
Measure Your Success
Your direct mail marketing campaign should have a way to track how people are responding. It's pointless to run a campaign if you can't tell how successful it is. You need to know how different audiences are responding to different mail formats, as well as which messages are converting best. This will direct how you run future campaigns.
Get Started
If you're intrigued about our MyBooks program as a means of direct mail marketing and want to learn more, click the link below to get a free sample of our "Business Card" book.
This book contains helpful advice for home sellers looking to get the most out of their sale.
Simply mail it out and follow up a few days later — that is, if they don't call you first!
---

Joe Nickelson is a real estate professional dedicated to helping home buyers and sellers achieve their dreams of owning property, and helping real estate agents stop using the sometimes-vicious tactics that weigh on their consciences. He believes that the Smart Agents books will, quite literally, change people's lives for the better. Check out his full bio here!