One of the biggest reasons owners sell FSBO is to avoid paying an agent's commission fee.
If you're prospecting one, chances are this is an objection you'll deal with.
Just telling them you won't cut the commission won't do anything.
You have to properly illustrate to them why that would be a mistake for all parties.
People that sell for sale by owner usually are just uninformed. So if you respectfully inform them of the statistics, they'll be open to listening.
It's proven homes with agents sell for more than FSBOs.
FSBOs just don't know this. Or they have something against realtors and can be hard headed. Show them the stats.
According to the National Asociation of Realtors, FSBO homes sold for $185,000 compared to $240,000 for agent sales.
In theory, this could be the only argument you need to make with an owner. They would see this fact and want to end up on the better side of it.
But chances are they were somewhat aware of this when they chose to sell alone. The owner just thinks they're the one who's going to beat the statistic.
You also must inform them of all the other pitfalls that come with a lower commission or selling alone.
Explain to them you don't get the whole commission.
A lot of owners have no idea how it works and won't bother to find out on their own. If you work for a brokerage, it's even more.
Tell them how the process works and about buyer's agents. They will almost always have to pay for a buyer's agent's commission anyways.
If you and the buyer's agent works for a firm, they get some of the share as well. Not wanting to pay for a commission hurts all sides of the deal.
Most owners don't know this.
Say, "If you do find a buyer without an agent, they almost always will have an agent. And you have to pay that commission. If you only work with buyers that don't have agents, you'll barely have any to choose from, if any."
Next, show them how and why you'll sell the home for more money than they would.
This is where your research and preparation before a listing presentation show. Knowing what homes in their area and size sold for is what to reference.
This is how one of our members won two FSBO listings. He dropped off material with them and then did a CMA.
He realized he could probably sell their house for more than they thought. They would make more money even with paying the commission.
Here is a snippet of that interview.
"I do that all the time, whenever I drop off a book I write down the address and then I go home and I do my own CMA.

So if they call me I can automatically say oh, yeah right here it is in front of me, I've done a comparative market analysis for you and you're 15,000 under market and they told me well the county assessor's office says this is what my house is worth and I said the county assessor's office is anywhere from 10-20% low.

They were asking 85 and I told them, I said, I can sell your house for 100, I'm gonna list it at 105 and we sold it at 103."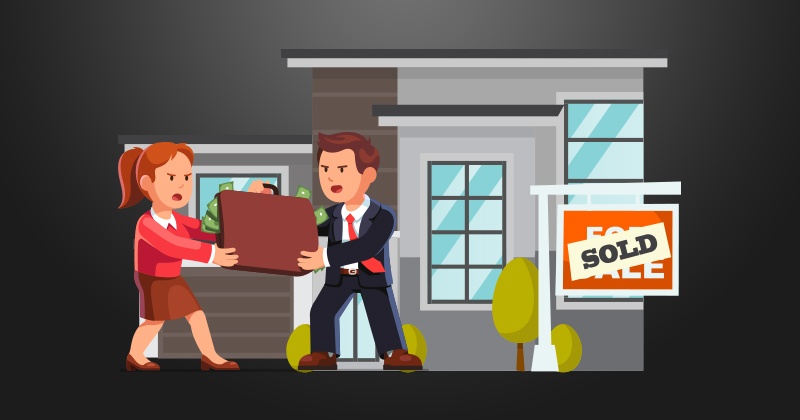 Even if they have it priced correctly, show them your marketing and all the detailed knowledge that goes into it.
Copywriting, online marketing, virtual tours, showings and open houses are all things that FSBOs are generally uneducated about.
This is why 90% of FSBOs end up getting an agent. There is so much work that goes into it.
Even something as simple as professional photos for the listing makes the difference between a home getting sold and expiring.
Show them everything that you put into a listing. Be in-depth with it.
You want to convince them that your commission is worth it and will pay for itself almost tenfold.
Here's another way to get over this objection.
Say:
"I'll have less money for our marketing budget if I accept a lower commission."
Tell them that homeowners aren't saving money by getting a lower commission, but they are cheating themselves out of marketing and getting their home seen by more people.
Show them what their listing would look like by using your past ones. Tell them that according to Realtor.com, houses with six pictures increase its viewing by 300 percent.
Show them your old MLS listings and compare it to FSBO listings online on Craigslist.
Ask them if they would really want their home to get half of the maximum exposure.
"You Get What You Pay For."
Chances are if a realtor is willing to take a cut in commission, he or she wasn't going to do the best job possible. You really do get what you pay for.
Do those owners really want to be messing around with such a big task and hiring a cut-rate agent? It's too important for that.
You do get what you pay for, and having an agent that goes the extra mile for their listing is more than worth it.
Talk about negotiation.
If you let the owners cut your commission, how are they going to feel when you go to negotiate an offer with prospective buyers.
Say, "If an agent is willing to cut his or her commission, just like that, how well do you think they will hold up when it comes to negotiating the best possible price for your home?"
Finally, just tell them how many potential buyers that won't see their home without an agent.
This is still the main reason why FSBOs rarely work out. It's worth repeating. Does this owner really want to take a chance with these statistics?
If you can demonstrate how valuable you are, they will list with you.
This is our method at Smart Agents. If you are a member or aren't, you can demonstrate value by giving them tips and any helpful material.
This Book Shows You The Easy Way To List FSBOs – With No Rejection.

FSBOs will welcome you with open arms. Just like agents call these sellers the wrong way, most go about prospecting FSBOs wrong too.

It is about being persistent, but how you are persistent makes the difference.

Our book "The 5 Step Plan That Makes It Easy To List For Sale By Owners" will teach you:

How to prove that you can sell a home for more money than the owner can sell alone.
A simple method that easily over come the objections that FSBOs use to justify not selling their home with an agent.
How to get FSBOs to refer you to their friends and family.
The 5 Step Plan that proves to FSBOs that you will be able to sell their home for more money.
Just like other types of leads, FSBOs need to be shown what you can do for them. They can be harder to talk to than other sellers.

This book will show you how to win them and prove yourself as the permier agent.
---

Joe Nickelson is a real estate professional dedicated to helping home buyers and sellers achieve their dreams of owning property, and helping real estate agents stop using the sometimes-vicious tactics that weigh on their consciences. He believes that the Smart Agents books will, quite literally, change people's lives for the better. Check out his full bio here!