You may not be a tall, stubble-faced Canadian twin with a million shows on HGTV, but that's OK.
You can still use the "Property Brothers" as inspiration to become the go-to Realtor for clients wanting to buy or sell fixer-uppers in your area.
As I'm sure you know, the Scott brothers have built an empire by guiding clients through the process of turning run-down houses into dream homes. You also probably know that the buyers often need a little (or a lot) of guidance along the way.
With your help, they'll understand how to create a home that suits them perfectly and increases their home's value — plus get a great ROI when they go to sell. That's where your vision and expertise comes in extra handy.
What Fixer-Upper Realtors Need to Know
Your job as a fixer-upper agent is two-fold. You'll want sellers to understand which renovations will net them the biggest ROI. And buyers need to learn that the necessary fixes can often be done affordably.
This means you've got to know costs, ROIs, and what colors, styles, and specific improvements buyers in your area are looking for.
Nightmare tales of unscrupulous contractors may be one reason clients resist remodeling. That's where you come in. You should always have a list of reputable professionals on hand, ready to recommend. You might even be able to have the contractors work for you at a discounted rate. (Bonus!)
It's also important to know how long your buyers are looking to stay in the house. If it's ten years or more, ROI doesn't matter so much, and they can focus on creating the best house for them. But if they're planning on being there five or fewer years, ROI will be an important consideration as they plan their upgrades. Obviously sellers will be concerned about ROI, too. So let's look into that, shall we?
The Best ROIs
We've scoured the books looking for the best return on investment projects. Here's what we found:
According to Remodeling magazine, entry doors, manufactured stone veneer, garage doors, and siding are the top four ROI improvements, bringing in 84-101% ROI without breaking the bank! New patios and decks and updated windows and roof are also good bets. (But only replace roofs that need to be replaced!)
As far as specific rooms, kitchens bring in the highest ROI, followed by attic bedrooms, and bathrooms. They're all in the 70% ROI range, although in hot markets, they can net 100% or more. And don't forget about the outdoor living spaces. The right landscaping can have a 150% ROI or more!
All Systems Are Go!
While it's way more fun to spend money on things people see, homeowners need to keep the basic utilities (electricity, plumbing, etc.) updated, too. Behind-the-scenes systems don't net as high an ROI as things buyers can see, but they impact the quality of living, day-to-day costs, resale value, and how quickly the home sells.
When upgrading these features, consider energy efficiency. Going green addresses both financial and environmental concerns, may attract more potential buyers, and will earn homeowners good karma points, too.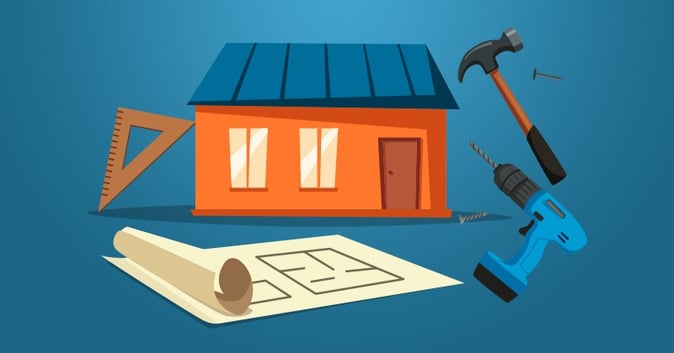 Inside the 'Home Sweet Home'
There are some things to keep in mind regardless of which room is being remodeled, especially for sellers. These include neutral paint colors, crown molding, and using textures like stone, shiplap, or exposed brick to add interest. Hardwood floors are by far the most preferred type of flooring, and some buyers won't even look at houses without them.
Good lighting is also key, as the only cave people tend to want in their house is a man cave. One easy switch is changing out 60W incandescent bulbs for 100W LEDs. This minor and relatively cheap change brings more light, reduces energy costs, and means fewer bulbs to change over time.
Now let's look at a few room-specific ideas you can share with your clients:
Kitchen
When it comes to kitchens, it's best to go simple. A fancier kitchen can net 50% less ROI! This is partly because personal taste becomes more apparent in gourmet kitchens. Also, buyers don't necessarily see the value in the custom staining or expensive hinges, no matter how fantastic they look.
Stainless steel appliances (or at least stainless steel finish) are by far the way to go, but skip luxury brands, which have a lower ROI. Cabinets should be simple and reach the ceiling. Homeowners can repaint them and switch out the pulls for a significant, yet budget-friendly change.
As you're probably well aware, open concept is huge right now. This Old House says creating an open floor plan is one of the best ROI projects homeowners can do. In this situation, an island is also a safe bet.
Bedroom
Expanding bedrooms has a 50-83% ROI. Building an addition or adding a basement or attic bedroom is in the 60-70% ROI range. The master suite expansion, which includes a bathroom and closet, is one of the most popular renovations. Not only do the homeowners get to enjoy it, but down the road, it'll bring in more money and help them find buyers more quickly.
Bathroom
There are some differences of opinion on bathroom ROI. The National Association of Realtors® says they get a 60% ROI, while HGTV says it's the best room at 80-130% ROI. However, if there's only one bathroom in the home, it's generally agreed that it's better to skip the remodel and put money toward building a second bath. Not only does this increase the home price by 8.7% — if you've got more than one person living in the home, it makes life a heck of a lot easier.
Like kitchens, bathrooms are a place where homeowners don't want to overspend (but easily could). Countertops are great value adds, and can be done relatively inexpensively. Storage options and glass shower enclosures also provide a strong ROI.
Additions
A quick but important note: make sure your clients know that adding space means increased insurance premiums and property taxes. The last thing you want is for them to do all the work, then be unpleasantly surprised with the added costs!
Outdoors
Remember that 150%+ ROI mentioned earlier? Some ways to cash in on outdoor projects include planting the right trees and bright flowers, keeping native plants, and adding appropriate lighting. The current trend is to have a smaller lawn with shrubs, planting beds, and a water feature.
Helping Your Clients
Taking on a fixer-upper isn't for the faint of heart, but it can be completely worth it. Your job is to help clients see the potential, so being an expert on ROIs and local trends can set you apart from other local agents.
Our Home Improvements that Earn Value book is the perfect marketing tool to help you land potential fixer-upper clients. It's part of our MyBooks content licensing program, which gives you access to books with your picture and name on the cover, as well as social media templates, over 100 prewritten blog posts, and more.
With the right info, connections, and marketing, you'll be well on your way to conquering your local fixer-upper market. Look out, Scott brothers!
Disclaimer: Smart Agents is in no way affiliated with HGTV or any of its subsidiaries.
---

Joe Nickelson is a real estate professional dedicated to helping home buyers and sellers achieve their dreams of owning property, and helping real estate agents stop using the sometimes-vicious tactics that weigh on their consciences. He believes that the Smart Agents books will, quite literally, change people's lives for the better. Check out his full bio here!