Social media platforms are powerful tools for your business. They give you the opportunity to expose your company to an ever-expanding and diverse audience, develop a brand identity, and most importantly, connect with prospective buyers.
However, there are effective and not so effective ways to use social media. If you make mistakes, it might hinder your ability to accomplish your marketing objectives.
Here's a closer look at these common blunders and the best practices you can employ to ensure they don't happen again.
#1: Failure to Go Into Detail.
If you rush to throw together a quick profile with scant details but nothing else, it might send the wrong message. And it might prompt the questions you don't want your prospective buyers asking.
Is the agent too busy to advertise? Even worse, if this is how you approach social media, how will doing business with you be any different?
This is your opportunity to give your business a face in the social media world. Therefore, take some time and craft a first impression that gives viewers a sense of who you are, what you do, and why they should choose you for their real estate needs.
It's also important to think simple when disclosing details. Address the common questions your customers ask, such as what are your hours of operation? Where are you located? How many years of experience do you and your fellow Realtors have?
Doing these things provide value to your customers, and will help to draw them in more.
#2: Lack of Consistency in Brand Messaging.
You might think it's a good idea to separate messaging tone for social media and website content, but what this accomplishes is a disconnect, especially when viewers toggle between the blog and say your Facebook page.
Let's say you use your website as a resource to promote listings, helpful tips for homebuyers — items your readers want. Meanwhile, your social media messaging concerns "viral" content such as clickbait articles, random videos and more. This creates a disconnect because one focuses on value, the other on exposure.
Social media should be an extension of your online brand messaging, not a new voice. Sure, you can expand your voice by diversifying the content you promote, but it's also important to keep the tone of the messaging consistent throughout.
Social media gives you another avenue to reinforce who you are and why you are the best at what you do. While your website should share basic information, your social media should have more personal posts on what it's like to set up an open house or what a normal day is like around the office.
These posts give viewers more insight into who you are. And this approach correlates to more distinguishable content.
#3: Sharing Extreme Opinions.
While social media is a forum that allows you to share who you are and what you do, it's important to keep your audience in mind when crafting messages. Avoid blunders like sharing conspiracy theories. Promoting statements such as "I believe 9/11 was an inside job," could alienate as much as 75% of your audience.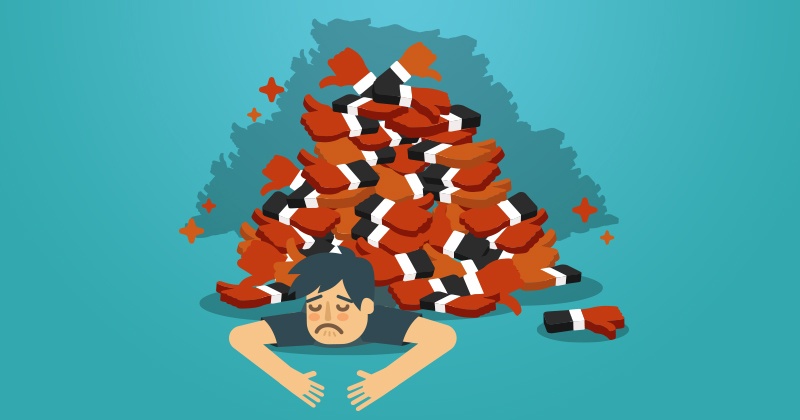 Instead, focus on how your services are of value to your readers. Remember, social media should be an overall extension of your brand messaging, and while you can make it personal, avoid polarizing topics such as politics and religion, as these issues will detract from your business objectives.
#4: Lack of Content Diversity.
A big no-no is to set up a social media account and pepper it with listings. This isn't going to entice people to follow you. Instead, focus on diversifying your deliverables.
The goal is to mix up the types of content, such as helpful hints for homeowners/ home sellers, personal content about your office, listings, and relevant open-ended questions that allow followers to engage with you.
In addition, it's important to mix up the type of deliverables. Links to infographics are one of the most visually appealing forms of content and are always a big hit on social media. Videos can tell your story in a personal way that hooks viewers in more than words. The more you're able to offer various types of content, the more your audience will enjoy the diversity.
It would be worth the resources to either assign social media to a current office member or contract someone who has experience with it. By allocating resources, you are showing others social media is an important part of your overall marketing message.
#5: Making Content "Too Corporate."
By using too much corporate speak in your social media posts, you make them hard to read and don't give readers a sense of who you are.
Sure, you might have restrictions on what you can or cannot say. But the material is only part of the equation. How you present the content that matters just as much.
This is why it's important to make your social media content personal. You want your followers to get to know you and your staff and feel comfortable enough to reach out to you to build that connection.
To accomplish this, make a welcome video on your profile page. This helps followers gain a sense of who you are. You can also share funny stories and good news from your business, such as new listings, closing, and happy customers. This is how you distinguish yourself from other agents.
Our members have another way of standing out.
We have 14 books to choose from that cover topics such as: FSBO, Expireds, First Time Buyers, Divorce, Inherited, Vacant Homes, Delinquent Taxes and much more!
Once you're licensed with these books, owners consider you an authority in real estate.
One of the best methods we use at Smart Agents to separate ourselves is our books program. Books have a huge perceived value. They don't get thrown away.
They can get tucked away somewhere, but most people aren't going to toss them in the trash. They're worth something, and they're worth something to the author's name.
Do this, and you will position yourself as the authority in your market. When you give away your book, it will separate you from your competition. That's how a smart agent thinks!
Want to get a free sample of the book that will position you as an expert? Click the link below.
---

Joe Nickelson is a real estate professional dedicated to helping home buyers and sellers achieve their dreams of owning property, and helping real estate agents stop using the sometimes-vicious tactics that weigh on their consciences. He believes that the Smart Agents books will, quite literally, change people's lives for the better. Check out his full bio here!