Selling real estate has its joys and perks.
I mean, who doesn't love cashing a big fat commission check?
But the profession comes with its share of fears and anxieties.
Here are five situations that might make your pulse race, and strategies that will ease your mind.
Fear #1: Talking to strangers
Some real estate agents love meeting and talking to new people; others would rather stick needles in their eye than make a cold call.
Talking to strangers, in fact, is a top fear for agents who worry they'll get tongue tied when confronted with an icy voice on the other end of the line.
One way to tilt the game in your favor is to target a demographic that is likely to need your services, like owners of expired listings, FSBOs that have been on the market for several months, and homeowners in older neighborhoods who may be contemplating downsizing.
Before you call, write a script that includes what you can offer and invites the voice on the other end to explain what their current and future real estate needs may be.
If you're particularly anxious on the phone, prospect for clients online by joining Facebook groups or participating in neighborhood listservs. These digital alternatives can pinpoint prospects and begin an introduction process that doesn't require a telephone chat — at least at first.
Fear #2: Rejection
Nobody wants to hear they're not good enough, or smart enough, or that people don't really like them.
The possibility of rejection can paralyze a real estate agent who spends his day trying to make a good impression.
The best way to overcome a fear of rejection is to embrace it as part of the real estate game. No agent lands 100% of clients they contact.
It might help to keep track of prospects approached and landed, so you can determine your personal batting average. Knowing that you typically land one out of every, say, 35 prospects, will help you gain perspective when a cold call results in a chilly, "No!"
Another way to steel yourself against rejection is to repeat: "It's not personal; it's business."
Often, a rejection just comes down to bad timing. If you call, say, three months from now, you might get a warmer reception. When you hear "no," make sure you ask if you can follow up in, say, six months. Who knows where the life of a homeowner might be next spring or even next year?
Fear #3: Never Landing a Client Again
It's the same fear suffered by Academy Award winners who accept their Oscar and worry they'll never make a great movie again.
After you sell a house, there's no guarantee you'll land another listing or make another sale. But the odds are in your favor.
The median salary of real estate agents in the U.S. was $43,370 in 2015, according to the U.S. Bureau of Labor Statistics. The best paid agents took in $110,560, while the lowest-paid earned $21,780. (https://money.usnews.com/careers/best-jobs/real-estate-agent)
The point is, there's always another buyer or seller down the road. All you need is faith and a proven mining technique.
The more you spread your name through community associations, social media, even handing out a ton of business cards, the more likely you are to land leads.
We also recommend using our business card book, "The Secret of Wealthy Home Sellers." The book is filled with great information for prospective clients, and it positions you as an expert in the field.

Fear #4: Nobody attends your open house
Have you ever had a nightmare about hosting an open house where nobody shows?
Sometimes, factors outside your control — like horrible or beautiful weather — affect the number of people who attend an open house. But you can help ensure a great turnout by employing the following strategies:
When it comes to placing directional signs, more is better. GPS your listing, and look for strategic corners where you can place signs that will drive the most traffic.

Use your social media channels to send out open house invites. Use the old-fashioned tactic of walking the neighborhood and putting invitational brochures in actual mailboxes.

Make sure open houses are included in your Zillow listings.

Offer free food, which always attracts neighbors, gawkers, and even some people who are looking for a home or contemplating selling theirs. You don't have to go crazy with expensive catering. You can throw a few hotdogs on the grill or buy some cheese platters at your local grocery.
Fear #5: Stranger danger
The real estate game involves driving strangers to view listings and walking through vacant houses with people you basically know nothing about.
You're wise to feel a little anxious in these situations and take safety precautions.
Meet new clients at your office before inviting them to ride shotgun in your car. Collect some personal information, and check their driver's licenses (tell them it's a company police to photocopy licenses.)
Also, introduce new clients to at least one other person in the office (that will spook someone with unsavory intentions), and make sure you tell your receptionist where you're going and when you expect to return.
Most of all, respect your uh-oh feelings. If you sense something is amiss, don't wait to find out you're right. Fake a headache, say you have an emergency text, get the heck outta there and live to sell another day.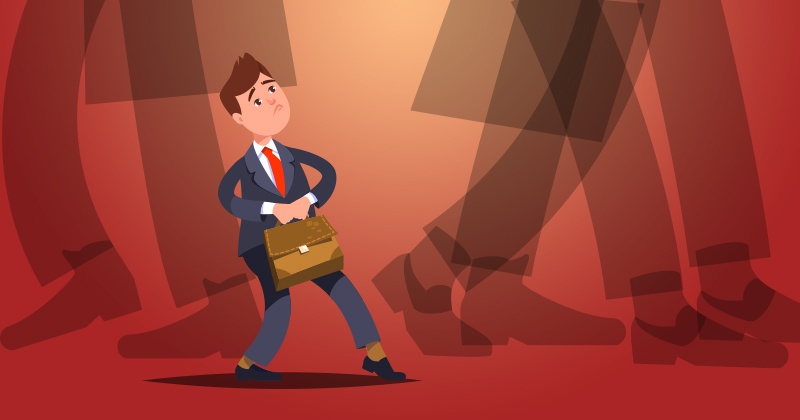 ---

Joe Nickelson is a real estate professional dedicated to helping home buyers and sellers achieve their dreams of owning property, and helping real estate agents stop using the sometimes-vicious tactics that weigh on their consciences. He believes that the Smart Agents books will, quite literally, change people's lives for the better. Check out his full bio here!