How To Lists Lots Of Expireds By Standing Out From The Competition
The most important thing is to be different from the competition. This way, sellers will notice. It can cause someone to stand out and get the listing. First, don't look like everyone else.
Don't send out the same letters as everyone else. You'll just end up blending in with other realtors. Make sure it says something different. A letter that says the same thing everyone else's letter says? It will be hard to grab any attention.

A Small 1-page letter? This is boring and probably won't grab anyone's attention.

Here's how you can do what's called the "Expired Rocket"

It's a 15-page listing presentation featuring case studies and different reports on the market
There's a story about a seller that interviewed three Realtors. They didn't know which one to hire. So they hired one that the dog liked. If you look like everyone else, then you will get the same results they get. A good way to separate yourself is to use direct mail. It's different than everyone else.
What do most agents do?
Most agents simply cold call. They call the expired and ask, "When do you plan on interviewing the right agent for the job of selling your home?" After the 3rd or 4th (or 20th) call, the seller will most likely view everyone as the same. If you send them a personalized letter, you will stand out from all the other agents that cold call.
But don't just do "Average Joe" direct mail.
Use Unique Stamps

Use Doodles on your letters
The third way you can stand out from everyone else is to speak their language. Most agents don't do this. Instead, they speak their own language by talking about themselves. Often when agents send out a letter, it's about how great their career has been. Sure, you can get a few listings this way. But there is a better way.
Imagine if you found the perfect Expired Listing. The home expired today and he's looking for a new agent. Now, he is heading home from work. You happen to specialize in his neighborhood and you're the perfect agent for him. But, he doesn't know it. He's listening to the radio. All of a sudden the song ends and you come on.
You have 5 minutes to give him your perfect sales pitch. He'll listen to it as long as you are interesting. He's a captive audience. Does that sound crazy?
It's not and all you do is need to send your own "Expired Rocket" package out.
You can do this and have their full attention for five minutes. You could even talk to them for an hour if it's done right. We call this "What's In It For Me?". Pitching toward the seller with this mindset will likely bring you some of the best converting marketing rates you've had. Either by talking to them or just sending a "What's In It For Me?" aka an "Expired Rocket" letter.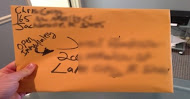 ---

Joe Nickelson is a real estate professional dedicated to helping home buyers and sellers achieve their dreams of owning property, and helping real estate agents stop using the sometimes-vicious tactics that weigh on their consciences. He believes that the Smart Agents books will, quite literally, change people's lives for the better. Check out his full bio here!