Pictures are one of the most important parts of your real estate listing.
If you have bad pictures, your listing is going to get no traction.
Here are 10 of the worst real estate photos and what went wrong with them.
1.
This is another extreme example, but don't use an old or cheap camera. Your cell phone cameras are decent but we would recommend using a camera like this.
The iPhone camera can't capture an entire room like a proffesional camera is able to. Other places will tell you that you can use your phone, but we don't recommend it.
2.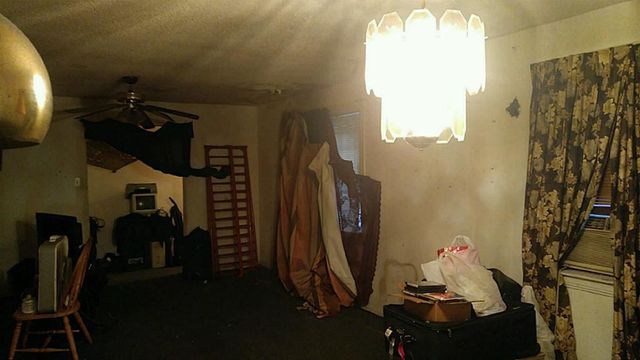 This home is obviously not staged at all but this is also an example of horrible lighting.
When you take pictures of the inside of the house, every light has to be on. If that still doesn't light a room enough, then you need to bring in additional lighting.
It won't matter what type fancy camera you are using, without solid lighting it is going to look bad.
Late afternoon is the best time to capture the inside photos. Letting in some natural light is also important.
3.
This photo should be from a bird's eye view, instead of this.
That would accomplish what this is trying to do, and show the viewer the entire scope of the neighborhood.
You need a drone to do this and may need to bring in a professional for this shot.
4.
Here's another example of a poor outdoor photo. This time it's an obstructed view with that tree in the way.
It was also taken during overcast weather. You should take all your outdoor pictures at the optimized time. Not to much sun but not overcast like this example.
And yes, a baby should not be in the photo.
5.

This picture may have been of a vacant home. Regardless, in these situations you have to bring in furniture to stage the room with.
Some wall decor should be added as well. Also, this photo was not edited at all. Never post any unedited photos.
6.

Some attempt of staging was made here, but it was not de-personalized. This owner needs to work to make the home completely neutral.
Viewers can't imagine their own life in a home if it is filled with objects they would never live with.
It needs to be generic enough where they can picture making it their own.
7.
There was no attempt at any curb appeal here. We've already mentioned the time of the day to take pictures and that you need to edit your photos.
But curb appeal is one of the most important things you can do.
You have to make sure the lawn and the walkway look better than that. This owner should have added some plants in front of that window as well.
8.
This is another landscaping disaster. The backyard is just as important as the front yard when it comes to listing photos.
The gate and lawn need to look amazing. At least this listing included the lawn mower, if you could find it.
9.
Colors should be neutral. This picture does not have neutral colors and will turn off some viewers.
Grey, light blue and white are the soft colors that work the best.
10.
The angle of the picture is its problem. The home looks good and the lighting is well done but the picture would have been better from a straighter angle.
This photo accomplishes nothing because of the failed opportunity to capture the entire front yard and driveway.
Pictures that are part of your listing and don't give any or enough value are just going to bog it down.
You should edit each photo.
It is almost mandatory you do this to each picture. You can easily use Google Picasa to edit, straighten, lighten, add contrast, crop, or to adjust color saturation on your photos.
Your pictures need to pop out and draw these viewers in.
Showing off selling points is important. Take the pictures of any special architecture or additions.
They could make the difference in your home sale.
Here are the top 3 things you need to focus on for each listing picture.
1. Lighting
Any pictures that are to light or too dark should be left out. Early in the afternoon is the best time for pictures.
Then after they are well-lit, you can make the finishing touches editing them.
2. Staging
If it is a vacant or empty home, you may need to rent furniture or bring in a staging company.
Take out anything that is distracting or not neutral. When in doubt remove the items.
3. What to Photograph
Do not include every part of the house in the listing.
If a part of the home won't look great in the picture, then leave it out. Most importantly, showcase any special features.
One of the biggest difference makers is the pictures on your listings. Editing photos is a task you can get done with a VA. But how do you hire them? What do you pay them? How does the training go?

Our team has written a book that show you how to build a business that runs itself. We go over hiring, paying, training and anything else you need to know about VAs.
---

Joe Nickelson is a real estate professional dedicated to helping home buyers and sellers achieve their dreams of owning property, and helping real estate agents stop using the sometimes-vicious tactics that weigh on their consciences. He believes that the Smart Agents books will, quite literally, change people's lives for the better. Check out his full bio here!