You are a salesperson. That's what a realtor is.
Thinking outside the box for publicity and views is needed in today's market.
Putting together a creative or funny video with you or your firm is an outside the box way to gain attention.
Realtors who go viral start off with a familiar relationship with any leads.
If these owners or leads already have seen you in your video, the first meeting will be different compared to other cold leads.
The more you're seen and known in your community, the better.
Especially if you offer a look into your daily life and business. This is how you start off with trust in your relationship.
Real estate is all about being human and spending lots of time with customers one-on-one, so show them you're someone they would enjoy working closely with.
There are millions of homes for sale in the United States right now, so creating a video piece with the intent of having it generate viral results takes some effort.
Your expectations shouldn't be that high. However, you can make waves and get noticed in your own community.
Especially if you work with a local partner or business.
Look at what this agent did to showcase on of her listings. It wasn't a video, but the same point still stands.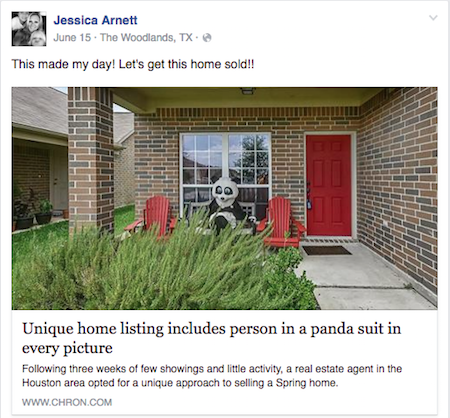 The Houston Chronicle picked up this story, helping her get thousands and thousands of views.
Then the home sold after just a couple of weeks.
They need to be creative.
Creativity is respected in just about every social circle and can do a fantastic job at getting viewers more interested in you.
This agent wearing a panda outfit in her listing photos is creative, but it's simple as well. Sometimes that's a big key.
The most important thing to do is to make it memorable.
When you accomplish this then you can stick in someone's mind, then when you talk to them, they will remember you.
A lot of local car dealerships and business use this same concept to get the local audience's attention on TV.
Here's an example of a lawyer's viral ad.
It's completely absurd, but has all the elements needed to go viral. This is more extreme than what most agents do, but it's short and will stand out.
The point of a viral video is to stand out from your competition. Just like any other thing or marketing we talk about at Smart Agents.
Keep your videos short.
One of the reasons that they can spread so quickly is people can watch them quickly. It's easy to watch these types of videos over and over again as well.
You can go a few different directions with the type of video.
A lot of viral videos show the funny side of real estate or the agent.
Here's an example of a Canadian real estate firm's video.
Highlighting the mistakes of common agents is a good idea.
Putting together a creative or funny video with you or your firm is an outside the box way to gain attention.
Here's another good example.
This is a more straightforward one. It pokes fun at all the hassle an agent could run into, while also talking about how this realtor will always overcome them.
It gets the point across extremely well. This video has 10,000 views on Youtube.
That doesn't seem like a lot for viral video, but it is for a real estate one.
Especially if it was promoted to her area or aired on local television.
Your videos don't need to be as good as these and probably won't get as many hits as they did (usually), but having a fun and short clip on your pages like this will get seen by anyone who interacts with your profiles or websites.
Sending leads to your profiles and pages with this type of content will help them know you better.
It may even show them a different side of you.
Sex sells. It's true in real estate as well.
Showcasing a listing virally is less competitive than showcasing yourself.
This is because standing out against other listings is easier than standing out against other realtors. Especially something like the Panda example I first mentioned.
Here's another example of this.
This is a brilliant video because it showcases the surrounding area of the listed home.
It may not go as viral as a funny skit, but it's going to stand out so much more than any other normal walk-through video.
They worked with the restaurants and business around the home for this video.
Marketing the video can make the difference between 100 and 10,000 views.
You will get the most views and exposure on your social media accounts. Videos are huge on Facebook right now.
Promoting them to your targeting area will bring you viewers, especially if the video is funny or wild.
The users on Facebook will think of it as less than an ad.
Use your video to build a relationship with a social media influencer.
Reach out to people who have hundreds of thousands of followers. If they like it, they can do a lot of things for you.
They'll promote you to their larger audiences. You can learn the best viral techniques from them.
If your video is funny or catchy, you'll gain some followers as well.
Approach them like would you any business partner.
Offer them a direct benefit to working with you. These people are asked for help hundreds of times a day. Make sure to offer something that will bring them value.
Remember to use SEO with your hashtags, keywords, and descriptions.
Use geo-targeted that are relevant to the location to include city, state, zip code and even neighborhood and community name (this is even more important for the listing showcases). Also, craft your video around your target audience by using the proper language, content, and humor.
Don't over-expose your company or your brand either. Maybe a watermark or a couple of references, but it will turn off viewers if you talk about it too much.
Shooting anything like this is more in-depth than a normal listing video.
Hiring a cinemaphotographer or renting some camera equipment isn't out of the question.
You need the correct editing software. Adobe Premiere or Camtasia works well.
Hiring a freelancer or virtual assistant to edit your videos saves you time and money.
Often they are more versed than you are in the software. This can save you frustrating time and let you focus on winning more listings.
What if you made videos but never had the time to edit them?

Or you hate the editing software? Imagine if you had a virtual assistant who could edit each video for $5 and get it back within an hour.

So this is one of the tasks you can get done with a VA. But how do you hire them? What do you pay them? How does the training go?

Imagine You Had A Business Like This:

You didn't have to set up the appointments.
You didn't have to mail out anything or email your list.
All the grunt work is handled perfectly.

Our team has written a book that shows you how to build a business that runs itself. We go over hiring, paying, training and anything else you need to know about VAs.