We grow up on stories — at bedtime, around the campfire, snuggling on a couch with our folks.
But too often, real estate agents forget about storytelling when they write listings, instead relying on a monotony of facts and numbers that ultimately shout, "Don't read me!"
All buyers want to imagine what life would look and feel like in the house you're selling. So your first opportunity to help them set that scene is a narrative listing that tells a story and ignites a buyer's imagination.
For example, here's a listing that uses a traditional format:
Colonial w/ 6 BR/6.5 BA & intricate details throughouts. 2 story foyer w/ marble & limestone staircase, living rm, adjacent library w/ cherry wood shelving & columns, 2 story fam rm w/ FP. Gourmet kitchen w/ prof. appliances. UL landing w/ master BR-sitting room, walk-in closets, bath w/ marble & sunken tub. 2nd UL loft w/ BR. Recreation rm w/ wet bar, 2nd kitch. Back patios w/ usable yrd.Mins frm DC.
Here's the listing rewritten using a narrative.
"Imagine making your grand entrance from this marble & limestone staircase, ushering holiday guests into a two-story family room with sun rays streaming through a floor-to-ceiling Palladian window. Lay out the dips on your kitchen's granite-topped prep island that doubles as a breakfast bar to enjoy an espresso and scones before work. Curl up with the kids on Sunday morning in the master bedroom/sitting room."
You get the idea.
You don't have to be Hemingway to craft a gripping real estate narrative (although it helps). Here are some tips that will help you write a must-read listing.
Lead with the best
Too often, agents start listings with numbers — 6 bds, 5 baths, ½ acre — which is a big snooze. Instead, analyze the property's best features and promote them with verbal pictures.
If the home is lakeside, say something like, "You can sip lemonade watching trout jump from your porch overlooking the no-motorboat lake."
If the home's best selling point is that it's close to downtown, write: "Walk a few steps to Starbucks for your morning latte and to Whole Foods for your favorite specialty cheese."
Lead, don't close, your listing with whatever you think are the property's chief virtues.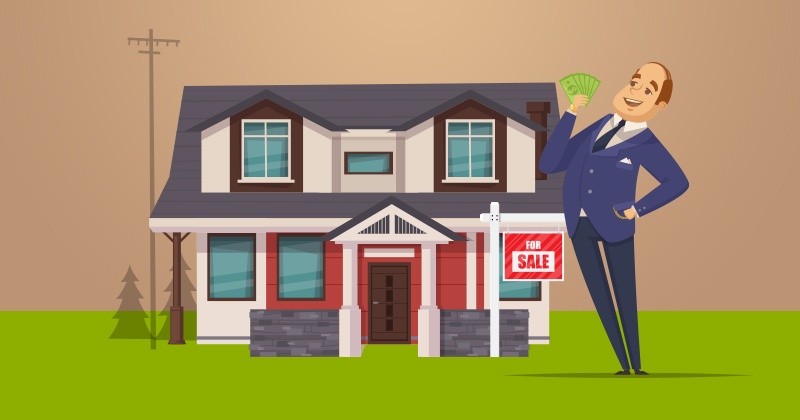 Turn negatives into positives
Buyers are hip to terms like "cozy" — which means "tiny" — and "fixer-upper," which means "in crappy shape." Don't bother to litter your listings with those terms.
Instead, set a scene that turns these negatives into positives, like: "You'll love intimate his and her time in a family room with plush carpet and gas fireplace." Or, "Imagine the new kitchen you can create, where guests gather around a marble-topped island while chili simmers on a six-burner range."
If a house is old, play up its history or, perhaps, its original details like wood paneling and plaster moldings. The land's not hilly, it possesses a natural privacy and noise screen.
Learn the property's history
Sometimes the most interesting thing about a property is its past. If you're lucky, someone famous lived or slept in your home. Historic moments don't have to be of national rapport; maybe your town's leaders met there for coffee and created the first charter school in the district.
Most likely, your sellers will know of any historical gems attached to the property. Don't forget to ask and draw out details about interesting people and events. Google the address to see if something significant pops up.
Choose your words carefully
Good writers know that words have power, so they pick powerful words.
Instead of littering copy with space-eating adjectives and adverbs, pick powerful nouns and adverbs, and use specifics rather than generalizations.
A master bedroom isn't "huge," it "sprawls." Backyards aren't flat, they're "the perfect place for a swing set or playhouse." Kitchens aren't "gourmet," they're outfitted with a Viking range or stand-alone Sub-Zero freezer.
If you must use adjectives, select from these words that sold for up to 8.2 percent more than expected when used in listings, according to a Zillow study.
The list includes:
Luxurious

Captivating

Impeccable

Stainless

Landscaped

Granite
On the other hand, a study conducted 14 years ago by the University of Guelph in Canada found that these words don't help sell a property:
Must sell

Value

Motivated

Move-in condition

Clean

New paint or new carpet

Ranch

Quiet

Vacant
Practice these writers' tricks
Don't expect the perfect listing to flow onto your screen. Good writing is re-writing. Look at ideas as a lump of clay. Your job is to sculpt those thoughts, adding and subtracting words until the masterpiece is created.

Don't leave writing your listing until the last minute. Genius takes time — usually more than you think.

Prooffread. Nothing hurts your credibility more than punctuation and spelling mistakes. (Did you catch the typo in "proofread?") Wait an hour before you proofread your finished draft, which will give your brain a rest and let you bring fresh eyes to your writing.
Writing a listing, of course, is a middle step in the home-selling process. The first step is convincing a seller that you're the right agent to market their property.
Creating a powerful presentation from scratch is time and brain-power consuming. Instead, take a look at our template for an "Instant Real Estate Listing Presentation." In a little over 7 minutes, you can fill in the blanks of the template and produce a hard-hitting, profit-generating presentation.
The presentation template will help you:
Position yourself as the best and ONLY option to sell their home, without seeming pushy.

Eliminated hesitation and convince sellers to commit to working with you.

Help unrealistic sellers to price their home right.