What does an expired owner see, think and hear when his listing expireds?
Of course, they are bombarded by agents.
But if you put yourself in their shoes, prospecting expireds becomes so much different.
I'm not an agent. I'm a writer.
Ben gives me the ideas and helps plan the content of these blogs out.
Sometimes he writes his own. So even though I'm not an agent, I've worked here long enough to see how agents work.
And I've seen what the job is about. I've interviewed hundreds of agents.
Being a realtor is not a regular job.
It's a constant grind. Going out on listing presentations is the same as someone going out on a job interview.
But you have to interview for your job over and over again.
Smart Agents have everything planned out and are prepared. It takes the stress out of listing presentations.
They have lead sources that continually bring in leads. Agents that struggle make excuses.
"This is too hard." "The market is the problem."
They have no preparation or steady lead source, or a plan on how to act with a lead.
Let me tell a quick story about my father's house he recently sold.
He made the sale, but it wasn't off the MLS yet. So it expired, even though he's getting the paperwork in order.
Naturally, agents blew up his phone (and mine even though I don't live there) all week.
I asked him to ask them questions and see what they say. So one lady calls up and says, "will you list your house with me?"
He asked her why he should list with her. She responded and said, "because I'm a real estate agent."
She said nothing else. After he said no she asked him to refer her to anyone he knows.
This has to be the worst attempt at setting up referrals you can make.
I'm not picking on this agent either. You just can't get business like this if there is ANY type of competition.
They were complete strangers, and she annoyed him by calling if anything. She even called back the next day and asked if he referred her to anyone.
I keep telling my father to play along so we can see this agent's full prospecting method.
I understand when agents ask leads or anyone if they know anyone who may sell soon.
But asking a complete stranger for referrals who you randomly call seems like it will have a 0% success rate.
When a Smart Agent calls a lead, they know why the owner should list with them.
Confidence is a part of being a realtor. Or you may be in the wrong business.
No one that cold called my dad did it right. The realtors who impressed him stopped by or dropped off a package.
I'm sure those successful agents could have cold called well too. But they didn't have too.
It's easy for an owner to tell the difference between someone who has "it" and who doesn't.
So many realtors are calling him, it's so easy for him to see the one that doesn't have confidence.
Imagine what my dad thought when this lady said, "because I'm a real estate agent."
Then she calls two days later. I hope she doesn't check off "setting up referrals" on her weekly to do's or anything like that.
I've seen this all through my dad's eyes. He was a FSBO and now is an expired listing.
I didn't pay as much attention when he was a FSBO. There weren't 60 agents a week bothering him.
When he gets a cold phone call with no substance besides asking to work with them, he laughs it off as a joke.
How do you come across as confident? Have a proven plan and know exactly where you will take the conversation.
The agents who explained what they do great and why they are great he doesn't work with them, but he remembers their names.
He respects them to an extent.
But, he's getting blown up with direct mail and calls as well. They don't know the house is off the market, but the point still stands on how they pursue him.
It's an $800,000 home two blocks from the beach. Most of these agents won't stand out to an owner like this.
Some agents have contacted him with a CMA and marketing plan.
They also ask about his staging and curb appeal.
These are the Smart Agents. They know where the house is located. They are prepared.
For an owner of an expired listing, these are the ones who stand out.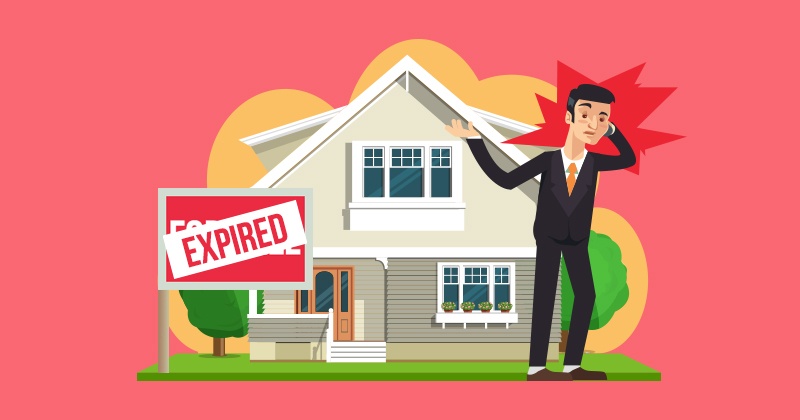 When you go to call or meet an expired, think of all the agents he is dealing with.
Come in with a plan. Otherwise, that owner will just see right through you and laugh you off.
I asked him to save the voicemails he gets and the direct mail as well.
Some of the direct mail just had claims like, "I'll get your home sold fast and for more money."
"I just immediately threw away pieces of mail that had those types of pitches," my dad said, "The more detailed stuff that gave some concrete reasons why anyone would work with them, is much more appealing."
When you go to call an expired, meet an expired or put together a package for one, put yourself in the owner's shoes.
Think of it as prepping for a job interview. Because in reality, this is exactly what you are doing.
Real reasons and a real plan for how you'll get the house sold is what matter.
The agent he worked with came to the home. She dropped by and left some material.
Then she came back and met him. They went over the changes he needed to make inside and outside of the home.
This was when he was still a FSBO, but the point still stands. This agent would have done the same thing with an expired listing.
This is why we talk about standing out so much here at Smart Agents.
It's just this important. Especially in this job field.
This is why we give our members the best tool to separate themselves.
You read how all of these agents looked the same to my dad.
Here's how to automatically stand out. It doesn't matter if you are a new agent or one who's been around for 30 years.
Mail or drop off a book. With your name and face on it.
Think of what this does. Imagine if my dad opened up a package with a book in it. That was about how to sell an expired listing.
He would have immediately respected this realtor.
So many of members have success with expireds because of this.
This is what happened to one of our agents on the east coast.
"The difference was in your presentations was this. One, the head agent did not come personally, sent one of his callers who indicated he was a caller. And was more trying to impress me with the volume of listings that they have versus anyone else.
Then, in speaking with my wife, he looked further at your credentials, and we looked at the expired book that you sent us of which you authored. You never once talked about listings, listings, listings, or volume, you talked about how you specialize in working with clients, or expireds I might say, prospects, that have an expired listing that's been expired for a very extended amount of time."
This was the response this member, Chris, received. He's a veteran agent. But as you can see, everyone needs help when dozens and dozens of agents contact these expireds.
The book set him apart from the other agent who's only pitch was how many listings he has.
This is why we believe that we offer the number one marketing system for realtors. Nothing else separates you from the competition like this.
Here is a video that shows how our program works.
With our My Books program, we can help you stand out and do everything we are mentioning here. Books are valued.

Do this and you will position yourself as the authority in your market. When you give away your book, it will separate you from your competition. That's how a Smart Agent thinks!

Want to get a free sample of the book that will get you more listings? Click the link below.