Running the entire show like a boss is the real deal, right?
But it does get overwhelming at times. Hey, there are only 24 hours in a day, and there's only so much you can do!
There is so much that goes into building a successful real estate business, and one of the most important parts of building that business is marketing. It's a part of your business you cannot afford to ignore, but it takes a lot of time and effort.
Fortunately, with the right tools in place, some marketing strategies can be automated to save you money and time. Thanks to evolving technology, there are a number of tools real estate agents can use to automate their marketing strategies.
How can you leverage marketing automation tools and make 2018 your most successful year yet? Here are six marketing strategies you can automate to drive your sales:
1. Email Marketing
Email is one of those marketing strategies that has refused to go out of date even as social media takes the world by storm. In fact, the latest statistics by Hubspot show that 86% of consumers would like to receive monthly promotional emails from companies they do business with.
That's a huge number to ignore!
You need to keep your prospects engaged through weekly, bi-weekly or monthly promotional emails. Now, this is a task that you can do once a month in just a few hours.
Email marketing tools help you to create lots of email content in one sitting. You can create as many emails as you want and schedule them in advance.
Remember, however, that your email content needs to be timely, relevant and useful to your audience.
Automation Tools to Use: Some of the good ones include MailChimp, AWeber, and ConvertKit, among others. These tools will not only help you send occasional emails to your leads but also offer you statistics on how people are responding to your emails so you can plan your future emails appropriately.
2. Social Media Marketing
Social media is a force to reckon with, and no business can ignore its value, especially when it comes to lead generation. Having a Facebook, Twitter, LinkedIn, Instagram, or Pinterest page for your real estate business is essential in today's competitive market.
You can promote your latest property listings, share your latest blog posts (if you have a blog) and even share expert advice that will promote you as the go-to real estate expert.
Posting relevant content on social media every day is a necessary evil that can be quite time-consuming. You can make this process easier and faster through automation. The most effective way to win at social media is to create content at least two weeks in advance.
Create a social media calendar on a spreadsheet and use it to plan and schedule your posts. Add in the social media platforms you will be posting to, the content to post on each platform and the date to post.
Automation Tools to Use: Buffer, Hootsuite, CoSchedule, Post Planner are some of the most popular social media automation services. They allow you to schedule posts to all major channels.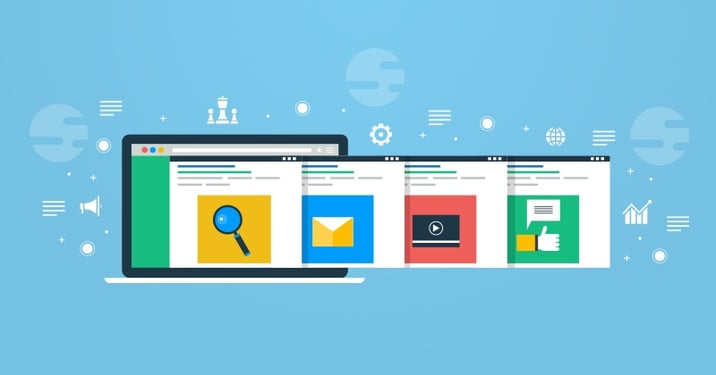 3. Capturing Leads
Now that you've automated your lead generation tasks and started getting a good stream of leads, it's important that you hook them in as soon as they land into your hands.
Add your leads automatically into your customer relationship management (CRM) database. With a good CRM, you can easily segment leads based on their stage of the sales funnel.
When someone fills out a form on your website with their contact information or responds to an email, instead of adding these contacts manually to your CRM, use a lead management tool to do it automatically.
Automation Tools to Use: Insightly and Zoho CRM are pretty reliable.
4. Leads Follow Up
Immediately following up with a potential lead is crucial in moving them to the next step in your sales funnel. With everyday business pressures, it's understandable that you might forget to check on your leads on a daily basis — another reason automation comes in handy.
Automate the process of contacting a lead as soon as your CRM captures their contact details. You can send them an email or text message. The sooner you do this, the higher the chance you have of converting leads into clients.
Automation Tools to Use: Some of the best tools to use for this automation process include: Contactually, Followup Boss, and WiseAgent.
5. Text Messages
Cellphone use continues to grow, giving Realtors a wider pond to cast their nets. Text messages are a great way to reach out to potential customers.
Through a short message, you can let your leads know of new listings, send them a promo message, or issue a simple update on the real estate market.
Chances are that people will read your text messages, so include an effective call to action that will prompt a response.
Automation Tools to Use: Texty and TextMarks are two good options to consider for bulk messaging.
6. Online Scheduling
Offering immediate customer support is one of the best ways to capture leads. Potential clients will move on to other agents if they're unable to receive timely support.
Often, when prospective buyers see a listing they're interested in, they will want to view it as soon as possible. If you're able to schedule one efficiently, you'll keep them interested.
Automate your online scheduling process to avoid long back-and-forth email conversations that may bore your leads. Provide leads with an online appointment calendar with available date and time slots.
Automation Tools to Use: Calendly, ScheduleOnce, and Google Calendar are good online calendars.
Importance Of Marketing Automation
Automation can help any real estate agent, no matter where they are in their business. Whether you are an experienced Realtor with a huge portfolio or a novice just setting up shop, these are some of the benefits you stand to gain from effective automation:
You'll have more time —

Instead of handling marketing strategies on a daily grind, you can set time aside and work on them in just a day. This will give you lots of time to take care of other business responsibilities, like meeting with clients.

You'll always be in the loop

— Automation lets you know every single time a prospect interacts with one of your marketing channels. You can respond to them immediately, holding their attention and interest longer.

You can nurture leads

— You'll be able to keep up with your sales funnels and be in a better position to nurture your leads, increasing your conversion rates, which means more sales.

You can focus on what matters —

Scheduling marketing efforts in advance makes it easier to implement your strategy and give clients valuable content.
Running a real estate business is fun and exciting, and with automation, you can turn your business into a well-oiled machine that can run itself — well, almost.
Consider hiring a virtual assistant to run tasks that need to be done manually.
Top real estate agents are using assistants to free up more time to do the tasks that require their physical presence. Believe it or not, all you have to do is show up, go to listing appointments, and close the deal!
Want to learn how a Virtual Assistant can free up more of your time?
Our book shows you exactly how to do that. You'll learn:
How to get virtual assistants to set up listing appointments for you.

How to develop a system to handle messaging, even when you aren't there

How to minimize grunt work so you can focus on the real work.
The best part? The book is free; all you need is just $2.95 for shipping. Click the link below for more info: