With the end of the year right around the corner, the holiday rush tends to make us all crazy. Questions are running through your head like, "What gift should I get my boring Uncle Todd?" or "What the heck is eggnog anyway?"
With all that hubbub, it can be easy to forget that this time of year is one of the best to market your real estate business.
Seriously!
You might think that because the holidays are busy for everyone — even your clients — that trying to market yourself now would simply be a waste.
But in reality, there couldn't be a better time to remind both past and future clients that you are available for all of their real estate needs.
After all, spirits are up, energy is high, and people have buying on the brain!
But where do you begin? Right here! Use the following tips to market yourself this holiday season and set yourself apart from the rest of the pack!
Holiday Cards
Whether you love 'em or hate 'em, there's no denying that sending a holiday card in the mail is a terrific way to remind your clients about your business.
A simple, classy greeting card that is hand-written and personalized to its recipient will show how much you value that person as a client. That value is then translated into word-of-mouth referrals, which could net you new clients (and sales!) later on in the new year.
But don't stop there! Sending holiday cards to potential clients you haven't worked with is also a terrific idea. How many other agents do you think are going to send them cards? You'll probably be the only one! That sets you apart in a major way.
A local real estate guru has been sending holiday cards to her clients for years. What she's learned is cards written by hand that include a personal note work the best. She adds, "Sometimes I've even had spelling errors in the cards by accident. This actually worked in my favor, as the recipients knew it was clearly from me!"
Volunteering
This one is terrific, because not only are you marketing yourself, you're also doing good for the community. Everybody wins.
Many local soup kitchens offer holiday dinners this time of year, and they are always on the lookout for people to help make the dinners a success. Volunteering your time for functions such as this will connect you with other volunteers. A handshake here, a business card exchange there, and presto: You've nabbed yourself a new lead.
Local news organizations tend to cover these kinds of dinners, too. Just think how great it would be to have a photo in the local paper, with your name and "Real Estate Agent" underneath it?
The important thing to remember, of course, is that volunteering is its own reward. Your community needs you!
Baked Goods
What is a holiday without cakes, cookies, pies, and sweets? Baking cookies is pretty easy to do and doesn't cost much money. Put those delicious treats into a festive display and deliver them to your clients. You'll be their favorite person ever!
If you don't have the time or skill to bake things yourself, here's a great idea: partner with a local bakery. Offer the business owners a deal. You can send out gift coupons for their products and pay for them when they're redeemed.
For example, an enterprising agent once did this with cookie vouchers. She sent her clients a coupon for a dozen cookies, which they then brought to the bakery to redeem. The bakery filled the order and then sent her the bill. Only about 50% of the coupons she sent out got redeemed, so she just had to pay for that many cookies.
You can include the coupon with your hand-written holiday card.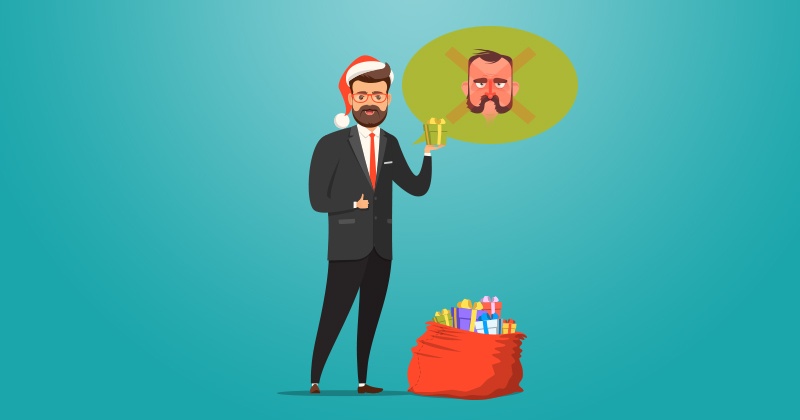 Social Media
Participating in holiday greetings on social media can be tough. Saying the all-inclusive "Happy Holidays" could alienate those who find it commercial and anti-Christmas. Saying "Merry Christmas" could alienate those of other faiths. What do you do?
There are three major holidays to focus on: Christmas, Hanukkah, and Kwanzaa. Why not post about all of them?
Hanukkah is usually first, but check online to find out when it starts if you don't know for certain. During the eight days and nights of the holiday, send out a social media blast wishing all of your Jewish friends a happy Hanukkah.
Christmas is always on December 25th, so it's easy to wish people a Merry Christmas Eve and Christmas Day.
Finally, Kwanzaa goes from December 26th to January 1st, so acknowledging this important African celebration is pretty straightforward.
The PC Police may be out in force this time of year, making you feel like you're wrong no matter what you do. But it's not difficult to include everyone in your holiday posting! Set up a reminder on your phone for each holiday, that way you'll know when it's appropriate to send out that blast.
Holiday Parties
Say what you will about holiday parties, but they all have one great thing in common: networking opportunities! Chances are that every holiday party you attend this year will have a few people you've never met before. Have your business card at the ready and keep your ears open for opportunities.
With the weather getting colder and holiday shopping to do, you may feel too exhausted to attend every invite you receive. But even if you only show up for an hour, it's worth it. You never know who could be in attendance!
Promotional Gifts
The hard part about this one is making sure you don't go cheap or useless. Does anyone really need a Frisbee with your name on it…in December? Or another pen to clutter up their desk?
How about something more practical, like a scarf for chilly days? Or a pint glass for holiday party shenanigans? Or a nice tote bag to cart around for all of your client's holiday shopping? Try to anticipate what your client will be doing this time of year and give them something that they will actually use. The more they use it, the more they see your name…and the more likely they'll be to give you references and leads!
And if you know someone who is looking to sell, there's a great book called The Secret of Wealthy Home Sellers that could make the perfect promotional gift. How can a book promote you? Easy: it will have your photo on the cover!
The Secret of Wealthy Home Sellers doesn't just have top-notch advice. It also acts as an alternative business card with your face front-and-center.
Get yours here: